General
TwoPlusTwo Bans Americas Cardroom Advertising, Cites Inadequate Response to Security Issues
Mason Malmuth, head of popular online poker community TwoPlusTwo, has taken the decision to stop accepting advertising from offshore poker room Americas Cardroom (ACR).
The decision has not been taken because ACR continues to accept US players without any regulatory oversight in the USA. In a post on TwoPlusTwo, Malmuth explains that he has become aware of several security issues affecting ACR and that despite raising these in a letter to ACR and Winning Poker Network (WPN) CEO Phil Nagy, he has not had a response.
"… according to many posters on our site, some problems have developed on Winning Poker Network and we in Two Plus Two management agree that they need to be addressed.

So, to this end, on Saturday February 24, we sent their CEO Phil Nagy an email letter where we addressed four issues: late tournament registration (which we now understand has been addressed), bots, possible super users, and other possible collusion. We also made some suggestions as to how some of these issues could be addressed."
TwoPlusTwo doesn't make money from subscription fees and relies on advertising and affiliate income for its revenues, so it has a strong incentive not to reject ACR's business, nevertheless Malmuth explained:
"As of the time of this writing, March 1, 2018, we have not heard back from them and have decided to take the following action. Two Plus Two Interactive LLC will not accept any more advertising from Winning Poker Network and their sub-forum will be closed. Of course, this can all change if we do get a positive response from Winning Poker Network and they still want to advertise with us."
Chicago Joey Ingram raises the alert
The current situation has come to the attention of poker players mainly because high stakes player and popular online poker blogger Joe "Chicago Joey" raised the issue on social media.
At the beginning of February, Ingram released the first of three YouTube videos attacking Americas Cardroom. He accused Nagy of failing to provide fair games that, in his opinion, were full of collusion and bots.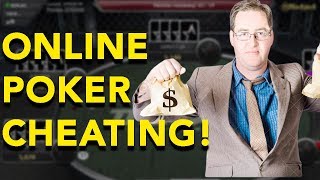 Ingram presented prima facie evidence that there was a security weakness in the algorithm for seating tournament players and showed statistics on players that provide strong indications that bots were active in SNGs and cash games even at the lowest stakes.
The evidence was presented alongside clips of Nagy explaining in interviews what his attitudes were to running an online poker room. Joey also said that he had discussed the issues directly with Nagy, but that he was unsatisfied with the response, and their "friendly" relationship had now been ended.
In short, Ingram's complaint is that ACR rightly prioritizes player fund protection and making sure that players always get rapid access to their money, but that this isn't enough. To genuinely look after the players, ACR must also address the very real issues of game security presented by collusion and bots, mainly emanating from Eastern European countries.
Phil Nagy responds to USPoker
USPoker contacted Phil Nagy to get his side of the story. In a long Skype call, Nagy's frustration with the situation was very evident. He clearly feels that the criticism is unfair and believes that he takes game security more seriously than most of his competitors in both the US facing and rest of the world market.
Firstly, Phil acknowledged that some of Ingram's criticism was fair. ACR did have an issue with the tournament seating algorithm.
Players who entered a tournament at the same time would indeed find themselves sat at the same table – a loophole that was exploitable by colluders. However, this algorithm has now been changed with a "hotfix" that was not widely publicized, although some players who had been affected by the problem were emailed about the change.
Nagy said that it was true that Ingram contacted him about the issues, and that he agreed to speak further about the issue. But when he had the conversation with Joe, he was on holiday with his family at Macchu Picchu in Peru, and didn't therefore get a fair chance to reply before Joe posted his first video only eight days later.
Nagy says that any claims of being unable to talk to ACR about these issues are unfounded.
"We take phone calls, we take live chats. He could have got on the phone and talked to me!"
Nagy explained that he had even given Ingram his own personal Skype details so he could make contact.
Privacy issues are a barrier to communicating on security
One issue which Nagy raised which definitely rings true is that ACR doesn't publish details of any accounts that it has banned for reasons of privacy. Talking off the record with a member of the PokerStars security team, I have been told that they are also caught in this trap.
The operators would like to name names, but privacy laws and data protection provisions as well as general law make this difficult for them to do. The PokerStars security guy told me that contrary to popular belief, the vast majority of bots and collusion are identified by their own procedures well in advance of any complaints by other players.
As at ACR, action to ban these accounts is taken privately and in line with the site's terms and conditions. Using the law to prosecute is beset with problems and only works in the most blatant cases.
"It's my job to investigate, but not to say. That's privacy, just like if your ex-wife called me to find out if you were playing."
Phil Nagy explained that while hand histories have a value in identifying bots and collusion, "following the money" is much more effective.
"I know exactly where the money comes from and I know where it goes," Phil explained. "Have we banned people and their bots? Yeah! Have we caught them? Yeah."
But, he continued, if ACR were to abandon its privacy policy to "out" these players, everyone would hate the consequences – and mistakes would inevitably be made as some honest players could be banned in error.
Phil stands by his emphasis on making sure player funds are safe, something that both Mason Malmuth and Joe Ingram have praised, but he thinks that his efforts to ensure game fairness have not been appreciated.
He explains that the reason he has not taken to social media to counter Ingram's claims is that to do so would be counter-productive and simply give credence to claims which he rejects as unfair.
From a business perspective, this PR strategy makes sense. Phil, himself explains that despite the appearance of this criticism on 2+2 forums and social media, "it hasn't hurt the business."
The real problem lies with US politicians
Watching Joe Ingram's videos, a viewer can't help but feel that he has a point. Security at ACR isn't able to prevent collusion and bots. But then again, there is a war between cheats and online poker operators, virtually an arms race where the crooks constantly seek new ways to abuse and evade security systems.
The question is whether ACR and the Winning Poker Network are doing enough to make the games as fair as possible. Phil Nagy would say "yes," and he too makes a persuasive case.
In a free market, players would be free to make their own decisions, to enjoy the big money tournaments and VIP scheme that distinguish Americas Cardroom or to go to another site of their choice.
Unfortunately, that isn't the case in the US.
As Ingram points out, for US players outside the states which regulate online poker, the choice is pretty much between ACR and Ignition – and Joe says that the problem of bots and collusion is if anything worse on Ignition.
Players who want to play online poker in the US still have little choice. In states where politicians have failed to establish a safe, regulated market, the consequence has been to hand over the market to offshore sites like Americas Cardroom and Ignition or real-money sweepstakes sites like Global Poker.
No matter how much personal integrity someone like Phil Nagy brings to running his company, players can never have the same legal protection as they would have if their state allowed online poker under a legal framework.