Editorial
Five Of The Best Celebrity WSOP Main Event Performances In History
For poker players, the World Series of Poker Main Event has always been the ultimate event in which to star gaze. Just about every superstar in the poker world from Negreanu to Ivey, Hellmuth to Seidel pay their $10,000 in an effort to climb poker's Mount Everest and become the World Series of Poker Main Event champion.
However, it is not just the stars of the poker world who enjoy the challenge of battling through the throngs of players in an effort to win a multi-million-dollar payday. Hollywood heavyweights have flirted with poker for decades and massive movie stars like Matt Damon, Ben Affleck, Don Cheadle, Ray Romano and, of course, Jennifer Tilly have all been spotted in the field in years past.
It's true that many celebrities have tried and, frankly, most have failed when it comes to cashing in the Main Event. But there have been a few that have put their careers on hold for a few days and embraced the grind to wind up inside the money bubble.
Here we celebrate the celebrities that have mixed it up on the felt and accomplished some fantastic WSOP Main Event finishes.
Nick Cassavetes
Writer/director/actor Nick Cassavetes has had a love affair with poker for the better part of two decades. An avid bridge and gin player, and a co-writer of the screenplay for the Johnny Depp big screen movie Blow, Cassavetes found his way into poker the same way an entire generation of players did: Chris Moneymaker.
In 2005, shortly after directing the iconic romance movie The Notebook, Cassavetes was working on another project – making a deep run in the Main Event. With $7.5 million up top, the prize eventually won by a then unknown Aussie player named Joe Hachem, Cassavetes was taking time off his Hollywood grind to play what was reportedly his first ever tournament.
Although by his own admission, Cassavetes had not yet learned the finer points of the game, the deck smacked him in the face and the Entourage actor finished in 93rd place for $77,710.
Cassavetes has continued to play after that run, appearing on PokerStars' The Big Game and High Stakes Poker, as well as reportedly being a regular in the high-stakes Hollywood community.
Kevin Pollak
Actor/comedian Kevin Pollak, known for his superior impression of Christopher Walken, has been a life-long poker player. However, it wasn't until he landed a role in Martin Scorsese's 1995 masterpiece Casino that he really got bit by the poker bug. According to Pollack himself, during the course of the 20 week shoot, he got his true education in poker by taking a seat in various poker rooms around town during his considerable downtime.
Though hooked, it took until 2012 for Pollack to find the time to play his very first Main Event. He not only found his way into the event, but he became a centerpiece for ESPN's coverage, tangling on the televised feature table with some the Usual Suspects like poker pros Chance Kornuth and Daniel Negreanu.
Despite playing against some top-level talent, the Pollak show continued all the way into Day 5. Things were looking up when he found a nice spot to get his final chips in the center holding pocket queens. The only problem was he ran into Krill Rabtsov who also held pocket queens. What looked like it was going to be a chop, turned into Pollak's final hand as the board helped his opponent hit the unlikely flush. Pollak's dream run ended in 134th place for $52,718. It's his only recorded cash to date.
He even video blogged about his experience — way before vlogs were all the rage in poker.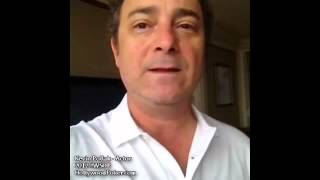 THE BEST SOCIAL POKER ROOM IN AMERICA
Free $20 Gold Coin Offer
With a Verified Account, PLUS
get as $40 Gold Coin Offer for $20
US Players Accepted
Daily FREE Sweeps Coins Just For Logging In
Texas Hold'em Ring Games, Tourneys, and SNGs
Chance to Win Cash Prizes
Sully Erna
Salvatore "Sully" Erna probably looked like any other poker player in the field during the 2007 Main Event, having played in the Main Event for a few years prior. After all, it wasn't his look that he was famous for.
Erna is the gravel-voiced lead singer for heavy metal music veterans Godsmack, a band that has been nominated for four Grammys, earned three Billboard Top 200 number one albums and won the Rock Artist of the Year award at the 2001 Billboard Music awards.
Even though Godsmack's career was still in good standing, Erna appeared to be transitioning into taking his poker game pretty seriously. During his 2007 run, Erna declared that he was an avid poker player, felt like he had a pretty solid game with superior ability to use his reads on the felt. He was hoping to better his 2006 finish which brought him over $17,000. He did just that by grinding his way to 237th place for $45,422.
Months later, at during the 2007 Doyle Brunson Five Diamond World Poker Classic, the "I Stand Alone" singer continued to show his chops by finishing second in the $5K event to JC Tran for over $307,000.
Tobey Maguire
One of the Hollywood Home Games most feared players, and the subject of Molly Bloom's ire, Tobey Maguire has a well-known thirst for the game of poker. Maguire, an A-list star with credits on his resume that include Pleasantville, Seabiscuit and, of course, the lead role in the original Spider-Man trilogy, had been playing poker for years.
Reportedly the best grinder in any given game in Tinseltown, the calculating Maguire had accumulated a number of five-figure scores leading up to participating in the 2007 WSOP Main Event.
Just like Erna, it wasn't Maguire's first time in the Main Event, but it was his most successful. Erna and Maguire found themselves playing shoulder-to-shoulder, hoping to scale the pay ladders and go deep in the event. For Maguire though, he was unable to survive an encounter with Irish poker legend Donnacha O'Dea when Maguire's pocket kings clashed with O'Dea's pocket aces. The hand crippled the wall-crawler and eventually Maguire bowed out of the Main Event in 292nd for $39,445.
It was reported that Maguire received $15 million for Spider-Man 3 which came out in the same year.
Bruce Buffer
The long-time voice of the UFC, Bruce Buffer has been a life-long poker player and public advocate of the game for well over a decade with results dating back to 2005. It wasn't until 2010 that the fiery announcer was able to put together a Main Event run of his own and fight his way into the money.
Buffer lasted into Day 4, eventually finishing in 478th place for a $27,519 payday. The WSOP capitalized on having his famous voice in the house, asking Buffer, to return during the final table of that year to help kick off the festivities by bellowing out the traditional starting phrase "shuffle up and deal!"
The 2010 Main Event was the beginning of a heater for Buffer who reached a one-year deal to become the face of the now-defunct Luxor Poker Room. He then took down the 2010 Huster Casino Grand Slam of Poker Main Event for a career-high $75,000 score.
THE BEST SOCIAL POKER ROOM IN AMERICA
Free $20 Gold Coin Offer
With a Verified Account, PLUS
get as $40 Gold Coin Offer for $20
US Players Accepted
Daily FREE Sweeps Coins Just For Logging In
Texas Hold'em Ring Games, Tourneys, and SNGs
Chance to Win Cash Prizes