General
Review: Daniel Negreanu's MasterClass Is A Profitable Bet For Poker Novices
Daniel Negreanu can no longer claim the No. 1 spot on tournament poker's all-time money list, but he's still No. 1 when it comes to something else: fame.
Without question, no US poker player has done a better job of building their brand than Negreanu. Negreanu's fame and success have opened many doors, including his "MasterClass" course.
Here's my firsthand review of the MasterClass course: "Daniel Negreanu Teaches Poker."
What is MasterClass?
For anyone unfamiliar with MasterClass, here's the description on its website:
"MasterClass is an immersive online experience that offers access to genius by allowing anyone to take online classes with the world's best. Our instructors include Christina Aguilera, Serena Williams, James Patterson, and more. These video courses are 100% exclusive – MasterClass produces the courses directly with the instructors to capture exactly what the masters want to teach."    
MasterClass courses run the gamut from basketball with Steph Curry, to cooking with Gordon Ramsay, to directing with Spike Lee.
Suffice it to say, there's a course for everyone, and if you're a curious person, there's no shortage of MasterClass options.
Each MasterClass course spans several hours and is broken up into dozens of individual lessons. Each course also comes with a downloadable workbook and other resource materials, as well as access to community discussions and opportunities to interact with the instructor during "office hours."
Of course, all of that comes at a price.
You can purchase MasterClass in one of two ways:
A single MasterClass course for $90.
A one year, all-access pass for $180 (includes all MasterClass courses). This pass automatically renews unless canceled.
You should know that you'll receive a $90 credit if you decide to upgrade to the all-access pass after purchasing a single course.
Negreanu's MasterClass
The Daniel Negreanu MasterClass is broken up into 38 video lessons (chapters) on a wide variety of poker topics.
Here's a general idea of some of the topics discussed.
The basics:
Power of position
Hand ranges and board texture
Continuation bets, check-raising and three bets
Game selection, bankroll management and life as a poker player
Beyond the basics:
Bluffs
Bet sizing
Using a "mixed" strategy
Typical mistakes
Hiding and spotting tells
These lessons last anywhere from a couple of minutes to nearly a half hour, but most of them are right around 10 minutes long.
Throughout the course, Negreanu does an excellent job of conveying each concept in an insightful, but an easily digestible way. Video footage of televised hands, as well as a hand replayer and range calculator, make frequent appearances throughout the course.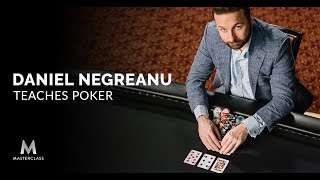 Who will benefit from Negreanu's MasterClass?
First things first, Negreanu's MasterClass isn't going to turn you into a professional poker player.
It could be a jumping-off point that leads to that, but by itself, that's just not going to happen. Nor is it designed for experienced, winning players. Rather, the course is aimed at a wider audience. That audience being new, casual or struggling players.
As such, it's meant to keep students from becoming or remaining lousy poker players and help them start to think through different scenarios like a poker pro.
In that sense, I would consider the MasterClass more of a leak-buster series — a really good leak-buster series.
If you're a new or even a semi-regular poker player that's unfamiliar with concepts like GTO vis-à-vis exploitative play, blockers and proper bet sizing, the course will pay for itself multiple times over.
On the other hand, if you watch Twitch streamers, read "2+2" and have a subscription to "Run it Once" or "Upswing Poker," the Negreanu MasterClass isn't going to offer much in the way of new strategies or information.
That said, there are multiple hand reviews (mostly from well-known televised hands) where Negreanu goes into great detail on seemingly unconventional plays and why he made them.
It's also engaging and entertaining enough that if you already have, or are considering purchasing the all-access MasterClass pass, the Negreanu poker course is worth watching.
THE BEST SOCIAL POKER ROOM IN AMERICA
Free $20 Gold Coin Offer
With a Verified Account, PLUS
get as $40 Gold Coin Offer for $20
US Players Accepted
Daily FREE Sweeps Coins Just For Logging In
Texas Hold'em Ring Games, Tourneys, and SNGs
Chance to Win Cash Prizes