General
HONORING MIKE: Phil Hellmuth Reflects on Poker Legend Mike Sexton's Impact on the Game
* Editor's note: The poker world learned this week that Poker Hall or Famer, longtime WPT commentator, and partypoker cofounder Mike Sexton has been battling prostate cancer. The disease has spread to other organs and he's been in hospice care for about a month. Phil Hellmuth has known Sexton for more than three decades and offered this contribution about his friend and what Sexton means to poker.
Mike Sexton and I have been competing against each other in poker tournaments from 1987 to 2020. That's 33 very exciting and fun-filled years as we chased our dreams on the poker tour.
From Las Vegas to Los Angeles, from San Jose to Sacramento, from Connecticut to Atlantic City, from London to Paris, from Baden, Austria's Casino Austria to Vienna, Austria's Concord Casino 40 minutes away.
Traveling the world, playing with class
From Amsterdam to Cannes, from Wales to Malta, from Alabama to Jacksonville and Miami, from Caribbean cruise ships to Melbourne, from Venice to Aruba, from Lafayette, Louisiana, to cruise ships in the Pacific Ocean, and finally in the last year, from Rio de Janeiro, Brazil, to Pompano Beach, Florida.
In 33 years of competing in high-stress, high-pressure tournaments I have never seen Mike Sexton go off the rails. No poker brat moments – always class, always pleasant, and nice to everyone. Simply said: Mike always handles himself well at the poker tables.
And what a warm presence – always smiling and always laughing. Unbounded enthusiasm! If you know Mike, then you know he overuses the words "the greatest" and "sliced bread."
"Phil, that touchdown was the greatest thing I've ever seen – the greatest thing since sliced bread," he'd say.
Mike Sexton's massive impact on the poker industry
Mike Sexton was the first player to make a move in the "poker sponsorship business" when he inked the first deal ever for a poker player with La Mode.
It was just free clothing, but Mike believed it would lead to a lot more. He was right!
Mike and I both started poker sites at the same time in the early 2000s. My first one went out of business. My second one was UltimateBet, and did well for a while (whoops!).
Meanwhile, Mike helped start partypoker. And within a few years (June 30, 2005) it was floating on the London Stock Exchange for $8 billion. Within a couple of months it hit $11 billion!
Success with the World Poker Tour
As Mike Sexton absolutely crushed it in business, he was also crushing it alongside Vince Van Patten in their iconic roles as the voices of the World Poker Tour. Mike was so successful that even the WPT went public.
Those were halcyon days indeed. But, it didn't end there. Mike already had a World Series of Poker bracelet in his safe at home from Seven Card Stud Eight or Better, and 72 WSOP cashes. He then added a WPT title to his stash in the 2016 WPT in Montreal.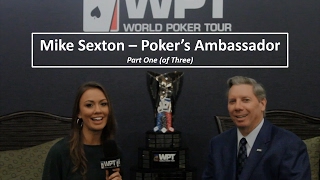 In fact, Mike made four WPT final tables. In July 2013 in Venice, WPT President Adam Pliska asked me to hop into the booth for Mike. I was right next to his trusty partner Vince Van Patten as Mike played in that final table.
Mike has profoundly influenced the poker world. Poker would not be as big without Mike Sexton. The poker players would not have as much money without Mike Sexton.
And poker would not be as well regarded as it currently is without Mike Sexton. The poker world owes Mike a huge debt of gratitude. Mike has been the consummate gentleman, and has championed poker better than anyone else.
Mike, fight hard my friend, we all love you.
Mike Sexton at poker table photo courtesy WPT/Joe Giron