General
Why Daniel Negreanu's Polls Aren't Popular With Everyone In The Poker World
Daniel Negreanu is no stranger to making news in the poker world. One of the biggest faces in poker recently took to Twitter with bracket-style polls of some in the poker media.
The subjects have ranged from podcasts to televised event hosts and play-by-play commentators and analysts.
"The point of these polls will be to showcase some lesser-known podcast hosts, have a little fun with it, and narrow it down to your absolute favorites," Negreanu noted in a Tweet. "Some of the numbers will be lopsided. And that's okay folks. It's just a poll."
The polls brought a nice reception from some poker players and fans. Others were critical and wondered if they were mean-spirited and unnecessary.
Reaction from players and fans
The polls began on Aug. 13 when Negreanu asked his many followers which poker analyst they enjoyed most. Surveys would continue in the coming days with from 4,000 to 5,000 followers weighing in.
Over the next week or so I'm going to run some polls on the different voices of poker and who you most enjoy listening to. They will be split into three categories:

Play by play

Poker Expert Analyst

Color Commentary/Humor

Polls will be head to head

— Daniel Negreanu (@RealKidPoker) August 13, 2019
As an anchor for PokerGO and other outlets, Jeff Platt in was one of Nagreanu's polls but lost handily to Lon McEachern. The poker host from Texas seemed to take the loss to the legendary voice of the WSOP in style.
Which of these two lead anchor/play by play commentators do you most enjoy listening to?

Matchup:@jeffplatt vs@lonmceachern

— Daniel Negreanu (@RealKidPoker) August 14, 2019
Hahaha, thanks for the kind words!

— Jeff Platt (@jeffplatt) August 15, 2019
Longtime poker player and analyst Gabe Kaplan, topped McEachern's broadcast partner Norman Chad. The former host of High Stakes Poker and star of Welcome Back, Kotter earned some high praise among fans.
Which of these two color commentators do you most enjoy listening to?

Only four that I felt truly belonged in this category so this is the finals matchup:@GabeKaplan vs @NormanChad

— Daniel Negreanu (@RealKidPoker) August 15, 2019
Many players took some time in analyzing and explaining their selections. Regular poker host and analyst Maria Ho won handily in her matchup over David Williams.
"Maria Ho!" one commenter noted after voting. "She seems a little more analytical and has opinions prior to action, not an armchair quarter(back)."
Longtime poker broadcasters Ali Nejad and Kara Scott produced some real conflict among some voters.
"Real tough one," another commenter noted. "I like both of them a lot. They both work with everyone very well and there is no evidence of self promotion with either of them, which is kind of hard to find in sports commentary these days."
Polls also bring criticism in some quarters
Not all followers and poker players were keen on the polls and showed their displeasure on social media. Some, including frequent Negreanu critic Doug Polk, believed the polls are merely popularity contests and mean to those who lost.
"I just want to thank Daniel Negreanu for being brave enough to stand up and do the right thing," Polk Tweeted on Aug. 16, "which apparently is non-stop Tweeting popularity contests about your friends to 471,000 people every few hours."
Polk followed that up on Aug. 22 with a video about the subject on his popular YouTube channel. The video received more than 143,000 views as of Tuesday.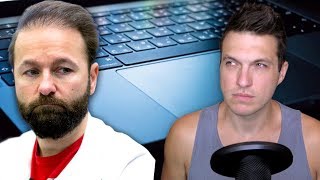 "Many people felt like this was over the line, totally irrelevant, and also was just angering people," Polk notes about the polls. 
The polls serve to promote Negreanu's popularity and image, Polk argues, as well as his friends in the industry. The contests even produced some criticism from those who were in them.
"These polls are so lame, pitting commentators against each other are for the birds," longtime player and commentator Nick Schulman noted in a reply to a poll in which he was featured.
A look at the polls and the growth of poker media
Whether one likes them or not, Negreanu's polls offer an example of the expanding world of poker media. The game's growth over the last few years has not only been good for many poker tours and players, but also media.
Streaming services like PokerGO have now partnered with tours around the world. The service recently announced it will launch the British Poker Open, running Sept. 2-12. The service also expands its Super High Roller Bowl to London, running Sept. 13-15.
The WSOP has expanded coverage in recent years with ESPN and PokerGO. The World Poker Tour continues adding stops around the world and recently signed a major expansion into Latin America.
PokerStars and the Triton Poker Series continue streaming some of their events online. Players continue streaming and viewing online poker content on Twitch and YouTube. The number of poker podcasts also continues to grow.
This has fueled a growing pool of live reporters, broadcast personalities, writers, photographers, and more. The debate may continue about the Twitter polls, but Negreanu said they were meant in fun and he didn't regret them.
Lots of people are bothered by these polls so I'm over it.

The podcast host polls will happen next week in an effort to help promote a wide variety of smaller poker podcasts you may not have heard of and enjoy.

— Daniel Negreanu (@RealKidPoker) August 17, 2019
"I didn't see any harm, and I still don't, in doing a poll asking poker fans who they enjoy listening to," he noted on Twitter. "If this caused someone pain, then that is more about their personal insecurities than any issues with doing 'who is your favorite' polls."