General
Jason Chaffetz Clashes With State Lottery Officials Over RAWA
GamblingCompliance is reporting Rep. Jason Chaffetz (R-UT) participated in a contentious conference call with about twenty state and state lottery officials earlier this month. The call, arranged by the economic development and commerce committee of the National Governors Association, apparently ended with standoffish comments from Rep. Chaffetz.
According to gambling attorney Mark Hichar, who participated in the call, Chaffetz ended by saying if they didn't like his bill (Chaffetz reintroduced the Restoration of America's Wire Act bill earlier this year), they should introduce their own.
"It seemed very odd that you would expect a state to file federal legislation to enable it to be able to conduct gaming in its borders," Hichar told GamblingCompliance. "I found that statement to be surprisingly aggressive."
Chaffetz's apparent lack of understanding as to how bills are introduced into Congress is quite troubling – hint, it's not by state lawmakers or state lottery officials – as is his continued insistence that RAWA (a federal prohibition that would roll back state laws) is the states' rights position.
For those that don't know how bills become laws, which seems to include Rep. Chaffetz, I present this tutorial: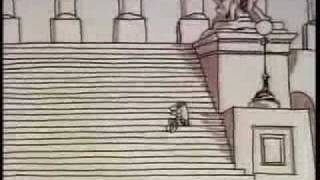 Hichar states the obvious
As Michelle Minton noted in her paper on the original intent of the 1961 Wire Act, the proposed Restoration of America's Wire Act bill is a misnomer. RAWA would rewrite and expand the 1961 Wire Act, not restore it, as its proponents are so fond of stating.
Hichar agreed with this assessment, as he told GC the title of the bill was "inaccurate," as it seeks to expand prohibitions beyond what is contained in the original 1961 Wire Act – pointing specifically to the implications RAWA would have on the sale of lottery tickets in a number of states:
"It would eliminate, for example, self-service instant [lottery] ticket vending machines and self-service online sales,"
"It would eliminate sales of subscriptions … not to mention video lottery [terminals]."   
Lottery opposition could spell the end of RAWA
These lottery prohibitions could cause the most blowback, and it doesn't seem like RAWA supporters are willing to compromise.
Sheldon Adelson's chief lobbyist Andy Abboud recently told GamblingCompliance that Adelson would be "unlikely to accept exemptions for state lotteries and tribes in a bill to prohibit Internet gambling," and this refusal to budge on lottery sales might be the coup de grace for RAWA.
As Hichar noted, the way it is currently written, RAWA would eliminate a number of delivery systems that many states currently employ to sell lottery tickets.
Therefore, RAWA wouldn't simply roll back the online poker and casino industries in Nevada, Delaware, and New Jersey, it would also roll back online lottery sales in a number of states, including Illinois, Minnesota, Georgia, and Michigan – not to mention preemptively prohibit them across the U.S.
The Georgia Lottery has already spoken out against RAWA, claiming RAWA would cost Georgia some $39 million.
Georgia Lottery chief Debbie Dlugolenski Alford said online sales were "critical to our success and our ability to grow revenues for education… innovative and effective methods of increasing revenues are central to keep up with rising costs of providing education, and the incremental sales growth provided by this channel plays a vital role in that effort."
NGA will continue to oppose RAWA
According to GamblingCompliance, the National Governors Association might release another letter opposing RAWA in the near future.
The NGA voiced their opposition to RAWA in May of 2014 in a letter sent to Congressional leadership:
Dear Majority Leader Reid, Senator McConnell, Speaker Boehner, and Representative Pelosi:
The nation's governors are concerned with legislation introduced in Congress that would ban online Internet gaming and Internet lottery sales because it challenges the federal-state relationship.
The regulation of gaming is an issue that has historically been addressed by the states. Regardless of whether governors are in favor of offering gaming—through whatever form—within their own states, decisions at the federal level that affect state regulatory authority should not be made unilaterally without state input. A strong, cooperative relationship between the states and federal government is vital to best serve the interests of all citizens.
Opposition to RAWA is certainly not unanimous among state governors, as several governors – Mike Pence of Indiana, Rick Scott of Florida, Rick Perry of Texas, Bobby Jindal of Louisiana, and Nicki Haley of South Carolina – have publicly supported RAWA.
However, for the NGA to publicly oppose RAWA there would have to be overwhelming support from the group's ranks.
RAWA is also opposed by the Democratic Governors Association, the National Conference of State Legislators, and the  North American Association of State & Provincial Lotteries.