Editorial
Testimony At RAWA Hearing Runs The Gamut From Informed To Insane
The hearing started about an hour late, and there was a lengthy recess to allow representatives to vote on bills, but in the end the RAWA hearing originally scheduled for March 5 finally took place, and the five witnesses chosen to speak on the issue were able to make their cases.
The witnesses called were:
Professor John Kindt, University of Illinois
Les Bernal, National Director, Stop Predatory Gambling
Professor Mike Fagan, Wash U – St. Louis Law School
Andrew Moylan, the Executive Director of R Street
Parry Aftab, Attorney specializing in Internet Privacy and Security
For the most part the witnesses at yesterday's House Judiciary subcommittee hearing said precisely what we thought they would say.
Here are the highlights of their testimony along with a link to their full submitted statements. A video of the hearing can be seen here.
The two-headed monster
The first two witnesses who spoke on Wednesday were anti-gambling zealots John Kindt, a professor at the University of Illinois, and Les Bernal, the national director for Stop Predatory Gambling – their testimony didn't disappoint.
I would say the duo went off the rails early on, but this would imply they were ever on the tracks to begin with. During their opening remarks they each spoke for roughly five minutes and this clip pretty much sums up what everyone who labored through that disjointed ten minutes was thinking: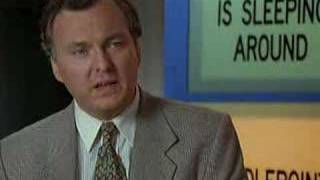 Professor John Kindt
Kindt came out firing with the same hyperbolic talking points he's been using for over a decade – such as calling online gambling the "crack-cocaine" of gambling even though the person he cites has said Kindt is misrepresenting his comments[i].
Kindt read from every page of his tired and debunked playbook, including citing reports by their very official sounding names while failing to mention he is the author of these dubious documents, and quoting from Internet security studies released over 15 years ago – an age when you used to have to connect to the Internet from your landline phone.
If Kindt were an NFL coach he'd be employing the "run and shoot" offense. I was waiting for him to pull a cell phone out of his pocket as a prop so I could check it off my bingo card, but then realized he would have produced something similar to the photo above.
Les Bernal
On the other hand, Bernal simply stuck to demagoguery.
While Kindt rambled and raved about all forms of gambling (at least he didn't suggest we should follow Russia's lead and criminalize gambling, or imply we shutter tribal casinos and turn them into schools), Bernal was decrying gambling (of any kind) and blaming gambling for billion-dollar state deficits and the U.S.'s current income inequality gap.
It appears the invitations sent to both Bernal and Kindt forgot to mention that this was not a gambling hearing, it was a hearing on state-regulated INTERNET gambling. Despite the narrow focus of the RAWA hearing, both men repeatedly turned their answers to any Internet related question into an indictment on gambling.
Here is a typical example of this:
Representative Cedric Richmond [paraphrased]: Will online gambling impact our state's lottery?
Bernal [paraphrased]: Yes, but your lottery is responsible for your state's budget deficit.
Who needs pro-gaming witnesses when you have people making such outlandish claims?
I say let Bernal and Kindt talk for the whole hearing, especially since their testimony seems to have helped sway some representatives in the opposite direction, considering both Sheila Jackson-Lee and Cedric Richmond seemed more opposed to RAWA at the end of the hearing.
Michael Fagan
Unlike the first two anti-gambling witnesses, Michael Fagan was well-spoken, on-message, and raised what can be considered credible issues.
This isn't to say I agree with his assertions – which are mainly based on hypotheticals even though regulated Internet gambling has been around for roughly two years in the U.S. and longer in Europe – but Fagan comported himself well.
For instance, Fagan, apparently unwilling to knowingly lie, admitted during the hearing that states have the right to offer intrastate online gambling, adding the caveat that it is permissive as long as it doesn't bleed across borders.
On the other hand, he did call anyone who thinks they can regulate online gambling "dreamers," which is probably news to the New Jersey Division of Gaming Enforcement, the Nevada Gaming Control Board, the Delaware Lottery, France, the UK, Italy, Spain, Portugal, and dozens of other countries.
But on a scale of "reasonable when compared to Kindt" he's close to the middle.
Andy Moylan
Next up was states' rights advocate Andy Moylan.
Skipping over his personal opinions on gambling (although he hinted at his opposition to gambling), Moylan's testimony focused on the libertarian case against RAWA, calling the bill federal overreach.
Moylan sidestepped most questions about gambling and Internet security, instead reiterating his belief that RAWA would infringe upon states' rights – a belief many libertarian and republican groups have also expressed.
Parry Aftab
When one thinks of Congressional hearings, the image that pops into mind is credible, expert witnesses, whose testimony helps inform lawmakers.
Parry Aftab was the only witness at yesterday's hearing that fit that description, as neither Moylan or Fagan are experts in Internet gambling or the safeguards that control the industry, and Kindt's and Bernal's only area of expertise seems to be fear-mongering.
For reasons only Congress can explain (but we can all guess at), not a single regulator was called as a witness on regulated online gambling.
Aftab has spent the better part of the last 20 years dealing with Internet security questions, and it didn't take long for the members of the subcommittee to come to the conclusion that Parry Aftab was the only credible witness present when it came to Internet security, and what is possible through regulation.
Aftab spent the majority of her time trying to separate unregulated online gambling from regulated online gambling, and made it clear several times that the safeguards in place at regulated sites are not being used by illegal offshore sites.
Aftab went on to say that RAWA would shut down these demonstrably safer regulated sites and allow unregulated online gaming sites to flourish.
In a complete departure from Sheldon Adelson's oft-repeated narrative that he is worried about children, Aftab made it perfectly clear that RAWA would endanger kids by saying:
"The verdict is in — with the exception of a handful of incidents which were quickly addressed, all -[regulated online gaming] stakeholders are safer and minors are being locked out of online gambling sites…
If you can't prove that you are an adult, the site is closed to you. Period."
She later added, "Offshore sites don't want to keep kids out."
[i] The actual quote by the director of the Harvard Medical School's Division on Addiction Studies, Dr. Howard J. Shaffer reads, "As smoking crack cocaine changed the cocaine experience, I think electronics is going to change the way gambling is experienced."