General
Here's Your Shot at Winning a PokerStars Platinum Pass – an American Already Won One
The Platinum Pass has once again taken the poker world by storm. PokerStars announced in August that pass winners will qualify for the €22,500 buy-in ($25,000) PokerStars Players Championship (PSPC), this time set for Aug. 20-24, 2020, in Barcelona. 
As part of the announcement, the PCA in the Bahamas has also been shelved after 16 years. Poker fans around the world can win one of the coveted passes playing in the Moneymaker Tour, in events online, and as part of other promotions.
That should eventually include PokerStars players in New Jersey and Americans throughout the country. Once American has even earned a pass already.
THE BEST SOCIAL POKER ROOM IN AMERICA
GET 150,000
GOLD COINS FOR $10
PLUS 30 Free Sweeps Coins

US Players Accepted
Get Over 65% Off Your First Purchase
Daily FREE Coins Just For Logging In
Use Promo Code: FLUSH
Ready to earn your pass? Here's your guide on what to expect for going platinum.
PokerStars Moneymaker Tour rolls again
One of the fun aspects of the 2018 Platinum Pass promotion was the $86 Moneymaker Tour. The 2003 World Series of Poker Main Event champion hosted tournaments around the world, with winners earning a pass.
Numerous players qualified for the mega buy-in event and a complete vacation package to the Bahamas. Players now have a shot to get in on the action again. However, that bargain price buy-in has been upped a bit to the $175-$200 range for these live events.
That's still a low price point for such a big prize on the line. Platinum Pass winners earn a complete package to Barcelona. Moneymaker has already hit the road with over 1,300 entrants between the EPT Sochi and Run It Up Reno.
Two other American stop on the tour have also been announced:
Seminole Hard Rock

, Hollywood, Florida – Dec. 11-15

Stones Gambling Hall

, Citrus Heights, California – Jan. 31-Feb. 9
PokerStars has now also scheduled several events in the UK, Ireland, and Paris, France. More events are expected to be announced soon.
"The tour has been a great success so far, and I've met some incredible players all with the same love and passion for poker that I have," Moneymaker said in a news release announcing the added dates. "I can't wait to get to the UK and Ireland and award more potentially life-changing prizes in players' hometowns."
Here are some other ways to earn a pass to the PSPC
While there hasn't been too many ways to win a Platinum Pass announced yet, expect more in the coming weeks. That should eventually include players in New Jersey.
https://www.uspoker.com/new-jersey/online-casinos/
Players may expect promotions that PokerStars has offered in other legalized markets including:
Unlocking winning PSPC Mystery Chests
PSPC Mega Path Final online qualifiers
Dare to Dream Freerolls
The site is expected to announce opportunities to win a Platinum right up until the PSPC in August 2020. The first five passes were given out in Barcelona as part of the "Chase Your Dream" competition.
The five winners believed they were playing PokerStars ambassadors and celebrities for a chance at  €10,000. Instead they earned 2020 Platinum Passes.
Last year, the site's sponsored pros also offered numerous promotions using social media to win a pass. This created a unique atmosphere in the Bahamas, with a mix of pros and amateurs, some of who had never even played in a tournament before.
Some of those promotions ranged from creating a vlog or unique poker game, and even writing your own poker story.
Online poker is also getting close to launch in Pennsylvania.
"Odds that some other ways to win a pass will become available to US players once PokerStars PA goes live," the reports notes. "It wouldn't be surprising if a Platinum Pass giveaway accompanied the launch in some fashion for that matter, as the rollout provides a clear marketing opportunity."
An American Twitch poker streamer wins Platinum Pass
Run It Up Reno produced the second Moneymaker Tour Platinum Pass winner and first to a US player. Drew Gonzalez, a Twitch poker streamer, took the top spot and coveted Platinum Pass. He'll be heading to the PSPC next year.
"It's starting to set in a little bit," he said after taking the win. "My legs are getting a little shaky thinking about it. I don't know how to say it. It's fun, it's cool, and I can't believe I didn't bust out of this tournament! I'm very lucky."
Gonzalez was running on fumes early in the day, but three hands in a row helped his chip stack in a big way. He was dealt pocket Kings followed by pocket Aces twice in a row. That run of good fortune then put him in the driver's seat.
"It felt great," he told USPoker this week. "It was a sick run."
He'll now have a chance at a massive payday next August. In January at the first PSPC in Barcelona, Spain's Ramon Colillas came out on top for $5.1 million.
On Twitch, Gonzalez streams as a member of the Team Thirst Lounge. The channel is run by regular poker player and businessman Bill Perkins.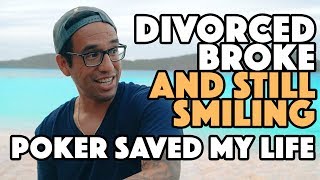 Players live in the Virgin Islands and grind it out for Twitch followers. It's kind of a poker reality show in an exotic, picturesque location. The channel asks poker fans to, "Follow along this wild ride, as 10 unique individuals navigate through the millionaire lifestyle!"
With a Platinum Pass in hand, Gonzalez now has a chance to do that in a big way.
* Photos courtesy of PokerStars