General
California Screenwriter Transitions From 'Rad' to Rounder, Produces Global Poker Podcast
Bikes, bros, '80s music, and epic dance scenes – screenwriter Sam Bernard just knew he had something. His film Rad debuted in 1986 and while it may not have been an Oscar winner, the film brought plenty of joy to teenagers enthralled by all things BMX racing and freestyle.
While he may be involved in other Hollywood projects, Rad remains a beloved film for many children of the '80s. Bernard looks back fondly at the film, but in recent years his focus has turned from pedals to poker.
The writer and producer is a regular player at the sweepstakes poker site Global Poker. His interest in the site even led to producing the Talking Global Poker podcast specifically geared toward the site's players.
Bernad recently spoke with USPoker about Rad, a possible sequel, screenwriting, poker, podcasting, and more.
The Best Social Poker Room in the USA
1
GET 150,000
GOLD COINS FOR $10
+ 30 FREE Sweeps Coins

Most US Players Accepted
Daily Free GC and SC

Get Over 65% Off Your First Purchase

Use Promo Code: FLUSH
From bikes to bluffs
While Bernard spends much of his life writing and working on film and TV, poker is also a passion. After Rad, Bernard went on to write and produce other films but frequented California poker rooms in between projects.
That included multiple daily tournaments at Hollywood Park and Hustler Casino to fill the void of movie downtime. He's been playing cards as long as he can remember.
"My parents were card players," he says.
Bernard first began playing Seven Card Stud in the local card rooms. He now enjoys tournaments more and enjoys playing small casino events.
In 2017, Bernard began trying his hand at online poker via the sweepstakes poker & casino site Global Poker under the screen name "Gyropilot313." That moniker came from a unique experience on a film.
"The name Gyropilot came from working on a movie in the Philippines and I got to pilot a Gyrocopter," he says.
Since joining Global Bernard has scored several nice tournament victories. One of his early wins came in a rebuy tournament that carries a 5,000 Sweep Coins guarantee.
"I remember that tournament because I limped Aces under the gun," Bernard says.
The hand and the tournament certainly had a happy ending.
Growing up Hollywood
Bernard grew up in the Hollywood area but was anything but a rich kid despite the 90210 area code. His father was an actor, but Bernard didn't drive a Mercedes or BMW like most students in his high school.
As a teen, Bernard began working in the film industry, moving his way up from production assistant. He absorbed as much information as possible and wanted to get into screenwriting. An important early lesson? Focus on the market. That tiny bit of advice has stuck with him.
"If you want to write to express yourself, write a poem or a song," he says. "If you want to write for movies, you have to write what sells."
At age 25, Bernard got his shot. While driving through Venice Beach one day in the early 1980s, a BMX crew piqued his interest.
"I saw these kids on half pipes and had no idea what they were doing," Bernard says. "I was looking for my next project, and went and talked to them and they basically told me to fuck off."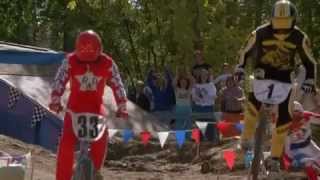 Undeterred, Bernard saw something in this small group of rebels and investigated further. He headed to a local bike shop and the owner gave him a BMX magazine.
After leafing through the publication, Bernard thought he was on to something. His roommate happened to know Hal Needham and set up a meeting. Needham had worked as a stuntman, actor, director, and producer since the 1950s.
A friend of Burt Reynolds, Needham directed the Smokey and the Bandit and Cannonball Run films. But he wasn't initially sold on Bernard's vision.
"Look – I make movies, I drive cars fast, and blow shit up," Needham told the young screenwriter. "I don't know nothing about bicycles."
Bernard had one final ace left up his sleeve. He invited Needham to check out a BMX freestyle exhibition. Actually seeing riders spin on the handlebars and whip their bike around like gymnasts did the trick.
Just 10 minutes into the show, Needham looked at Bernard and nodded. Bernard had the green light and was off to the races.
One rad plot
It may not have been a box office smash, but Rad remains popular among bike fans for its kitschy appeal. The film is a 1980s underdog story about BMX rider Cru Jones (Bill Allen), who lives in a small town with his mother (Talia Shire).
When a major BMX race comes to his hometown, Cru gets a chance to show off his skills. Along the way, he runs into problems with the event organizer and BMX pro Bart Taylor (Bart Conner). Some devious backdoor dealing also hinders Cru's chances at success.
The riders battle it out on "Helltrack," purported to be the toughest track ever built. One scene even showcases a classic "BMX prom dance" scene featuring Cru's love interest, played by Lori Laughlin.
Bernard co-wrote the screenplay along with Geoffrey Edwards and the film was originally called Balls Out. The plan was to market to an older crowd with more edginess.
However, that was scrapped and the story was geared toward a younger audience. The new title used some '80s slang for radical.
"People loved it because the good guys win and the bad guys walk away with their tails between their legs," Bernard says.
The film initially tested well, but didn't do well at the box office. With the birth of the Internet and growing video sales, Rad eventually became popular among bike enthusiasts.
"It has since grown into a cult classic," he says, "and I started getting letters and I was stunned."
The movie has now been converted to 4K high definition and available on Amazon, AppleTV, Google Play, and other streaming services. The movie is also debuting on Blu Ray in March.
Manning the microphone to talk Global Poker
With much of Hollywood slowed down during the pandemic, Bernard took his love of poker to the next level. The site offers a social gaming site and has featured a tight-knit group of players.
Bernard eventually connected with site regulars Sean "Seanell" Connell and Ken "WizofAz" Sumner. Soon the Talking Global Poker podcast was born.
"The three of us became friends while playing on the online poker site Global Poker," the show's description notes, "and started this podcast because we love the unique sense of community it promotes through social media."
The show debuted in February 2020 and Bernard took on the role as head producer. He's also the administrator on the show's Facebook group.
Talking Global Poker is independent from the poker site, but the company has been receptive to the project. Global has been offering special online freeroll tournaments for listeners. Global has featured the hosts as bounties in some events.
"Originally I thought we would get a cease and desist letter from the company but the opposite happened," Bernard says.
Global Poker general manager David Lyons supports the podcast and even appeared as a guest. Other players making an appearance have included Jesse Silva, Jamie Kerstetter, and Sopranos star Robert Iler.
The Best Social Poker Room in the USA
1
GET 150,000
GOLD COINS FOR $10
+ 30 FREE Sweeps Coins

Most US Players Accepted
Daily Free GC and SC

Get Over 65% Off Your First Purchase

Use Promo Code: FLUSH
Looking ahead
The podcast is close to launching the second season and there have been more than 30 episodes so far. One of the best things from the podcast, Bernard says, has been working with Connell and Sumner. He says: "They've become friends for life."
At the moment, Bernard is working for a video game company. He can't offer many details but is excited about the project. His love of poker may also move into his professional life eventually.
"I have an idea about writing a poker story about a local player down and out on his luck," he says, "but right now I am working a lot on the video game script."
Bernard draws inspiration from poker. And just as in any great story, the game is about the people involved. Bernard plays to win, but enjoys the dynamics of the "actors" on the live felt
"I love the game of poker," Bernard says. "But the characters in the game are what make it great."
★★★ Ready to get in the action at Global Poker? Click here for a complete site review with exclusive USPoker bonus offers. ★★★