General
Shamans, Yoga, & Frog Poison: Online Cheating and 'Cult' Allegations Leveled Against Poker Pro Bryn Kenney
After allegations of cheating surfaced last weekend involving high stakes pro Ali Imsirovic, more accusations surfaced on Thursday involving Bryn Kenney.
Poker pro Martin Zamani alleged the all-time live poker winnings leader with collusion and other cheating on Twitter and Doug Polk's podcast. That included multi-accounting playing online numerous times as well as even a cult-like control of his staked players with seemingly bizarre scenarios.
Zamani apparently became frustrated with the entire scenario involving Kenney and decided to go public.
"There's so many instances of him just straight abusing his horses," he Tweeted, "and no one has said anything because they say Bryn has too much power. Well fuck it all. I have nothing to lose."

On Polk's podcast Zamani added: "Brynn knew he was cheating. It wasn't like it was a secret."
Overlay deal and collusion allegations
Kenney backed Zamani, 26, on GGPoker and other sites. Zamani said Kenney worked to get many of his "horses" in tournaments so there wasn't an overlay.
His deal with the site meant a percentage of the tournament rake. Zamani also said on the podcast that numerous players backed by Kenney were colluding.
"The only two hands they'd be all in against each other was something like Ace-King versus Queens," he said. "They were always soft playing each other."
Zamani said Kenney always took a group approach when players were in the same event. Players were regularly told to collude at the tables so that players could collect more money for the stable, Zamani alleges.
He describes major collusion in high buy-in satellites and other events. Several players in the group would jump in the same events and work together while in the tournament, Zamani says.
"The idea is to always do what's best for the team," Zamani recalled on the podcast.
Players frequently shared their cards and Zamani describes Kenney as having "a lot" of players he stakes.
After telling the backer he was going public with the schemes, Zamani says Kenney deleted their Telegram conversations. However, Zamani says he screen captured much of those discussions to back up his accusations.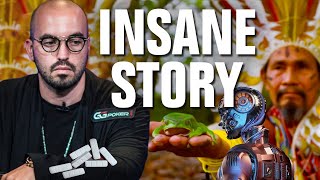 Multi-accounting and more
Beyond collusion, Zamani said Kenney multi-accounted numerous times, a terms of service violation at online poker sites. The tactic allows players to play as more than one user, allowing a player more chances to win.
Multi-accounting can get a player banned from a site. Zamani claims to have witnessed Kenney playing as multiple users in the same tournament on several occasions.
"There was a specific time me and his horse were on the same table in a $10,000 PLO six-max on party(poker) and he played both accounts," Zamani noted on Twitter. "Any type of arguing with Bryn would be faced with gaslighting."
On the podcast, Polk asked Zamani if most cheating strategies were on the table "to make Brynn the most money?" He affirmed that was indeed the group's goal.
Ghost playing in Mexico
Other players were also allowed to play on Zamani's account at times as well. He describes one of the stable's main players and coaches named Sergei, as barred by GGPoker for using real-time assistance (RTA).
This form of poker software tells players exactly what to do in every situation. RTA is banned by poker operators. Imsirovic was also alleged to have used RTA.
RTA use wasn't widespread among the stable however, but was used on some occasions, according to Zamani. Poker player Lauren Roberts was also part of the group as well, Zamani says. He added that Kenney coached her throughout events and also played on her online poker accounts.
"When it was supposed to be her sometimes, it was Bryn, unbeknownst to all of us," he told Polk.
Your friendship has been one of the greatest gifts of my life. ❤️❤️❤️🥰🥰🥰. Thank you @BrynKenney for believing in me! pic.twitter.com/LGX5Ot1VPs

— Lauren Roberts (@PlayPokerLkAMan) February 19, 2019
Zamani also describes the team as employing a "ghosting" technique. A player would play higher stakes or make a deep run in a tournament. That player would then be ghosted by another player in the scheme, in essence telling that player how to play. He described Sergei as using RTA during these instances.
The players in the stable lived and played at the same location in Mexico during the COVID-19 pandemic. This made it easy for other players to ghost them as they played.
Zamani added that he wasn't proud of his own involvement in the scheme, but wanted to at least come clean.
Accusations get even more bizarre
Zamani's allegations go on to describe some more interesting aspects of the Kenney stable as well. The poker group almost comes off as a cult at times considering Zamani's descriptions.
He says Kenney attempted to send players to a "shaman" to help players' approach to poker and "get their energy right."
The shaman episode involved visiting a woman in Las Vegas and being taken to her "ritual room." The woman referred to herself as a "murderer" and a "warlord."
For Zamani, the shaman prescribed a cleanse called "the Kambo." HealthLine.com describes the procedure as "a healing ritual used mainly in South America. It's named after the poisonous secretions of the giant monkey frog.

"The frog secretes the substance as a defense mechanism to kill or subdue animals that try to eat it. Some humans, on the other hand, apply the substance to their body for its alleged health benefits."
Zamani said the shaman planned to drop a small amount of the substance into a small cut on his body. He decided not to go through with it, but said others in the group did and became violently sick. That included diarrhea, vomiting, and swollen faces.
Mushrooms, drugs, and becoming a cult leader
Drugs were a big part of being in the group, Zamani also alleges. Players were encouraged to participate in drug use with Kenney or they could face discipline from the backer.
Zamani's allegations also included seeing a spiritualist and Kenney monitoring players' dietary habits.
"'Oh, don't want to do mushrooms with Bryn?' Dropped in stakes," Zamani noted on Twitter. "'Oh you don't want to see my retard psychic?' Dropped in stakes. 'Oh I heard you're not eating healthy and you eat grass-fed organic meat instead of vegetables from a shitt(y) Mexico store? Heard you didn't do yoga?' Dropped."
Zamani says he was also told to do mushrooms with the shaman. He agreed to do that to keep being staked. In the Mexico compound, all players were also required to do yoga each morning, Zamani added.
"I told my friends and family that this guy wants to be a cult leader and wants to be like warlord Bryn," he said on the Polk podcast. "But I'm busto and I need the work. He's willing to put me in 5Ks, 10Ks, and 25Ks. There's some coaching involved and it's probably fine."
Kenney was attempting to buy property near California's Mount Shasta, Zamani alleges, to create a "cult compound."
Zamani told Polk: "He really just wants to be a cult leader."
Oh not to mention when I told Bryn I'm probably going to expose this shit he immeditly deleted our entire telegram chat. As I expected he would. Unfortunately for him I have a screen recording of a year+ of chat. So I'd love to see him denying anything just so I can prove it

— Martin Zamani (@martin_zamani) April 21, 2022
Black eye for poker and high roller community
It hasn't been a good week for poker integrity. The accusations over the last week involving Imsirovic and Zamani offer some detailed looks at the game's underside.
Their accusers described both as spearheading major cheating efforts, although more details have surfaced of Kenney's attempts. Neither Kenney or Imsirovic has responded to the allegations so far. Attempts by USPoker to contact Roberts were also unsuccessful.
Imsirovic played in Thursday's $25,000 PokerGO Heads-Up Showdown, but lost in the first round. The allegations may cast a shadow over some of the high roller players who regularly play at some of the game's biggest stakes.
Online players may now be a bit more leery of the game's higher stakes. Polk attempted to reach out to Kenney and offered to let him give his side of the story on his podcast. So far there hasn't been a response from the alleged ringleader in the scheme.
Open offer to @BrynKenney. Lets do a podcast and get your side of the story out there. A chance to set the record straight.

Retweet if you want to see this.

— Doug Polk (@DougPolkVids) April 21, 2022
USPoker reached out to GGPoker earlier this week regarding the Imsirovic accusations. The site didn't confirm his possible ban, but commented on site security.
"GGPoker cannot comment with regard to any individual player, due to the usual privacy concerns," a company representative said.

"GGPoker treats all matters relating to game integrity with the utmost seriousness, and our security team works constantly to maintain the integrity of all of our games. A variety of security measures, including the permanent banning of player accounts and the confiscation and redistribution of funds, are employed by GGPoker on a regular basis."