General
Phil Hellmuth Rallies for Massive Comeback Win Over Daniel Negreanu on PokerGO
Many didn't give him much of a chance, but 15-time World Series of Poker bracelet winner Phil Hellmuth came out on top against Daniel Negreanu on Wednesday.
The action played out on PokerGO's High Stakes Duel at the network's studio at Aria in Las Vegas. This gives Hellmuth four wins in a row on the show after three straight over Antonio Esfandiari.
The show featured a sit and go style format. Hellmuth now takes home another $50,000 for his efforts and the High Stakes Duel title belt. Some criticism of his game from Negreanu and others served as motivation.
"With televised cash games, I keep on winning, winning, winning, and the younger generation doesn't notice," Hellmuth said afterward. "In fact, they just make fun of me. They want to ignore that I've won all these things.
"They want to ignore that I'm up $1.5 million in high rollers. So, I felt like I was under attack, and I didn't like it. But it was good for my ego because you start questioning yourself, 'am I great or am I not?'"
THE BEST SOCIAL POKER ROOM IN AMERICA
1
Free $20 Gold Coin Offer
With a Verified Account, PLUS
get as $40 Gold Coin Offer for $20
US Players Accepted
Daily FREE Sweeps Coins Just For Logging In
Texas Hold'em Ring Games, Tourneys, and SNGs
Chance to Win Cash Prizes
Negreanu takes command in first half
Both players brought plenty of trash talk coming into the matchup. They began the duel with 50,000 chips and blinds escalating every 30 minutes.
It certainly didn't seem like Hellmuth would make it four in a row. At one time Hellmuth was down to only 3,000 in chips. Negreanu picked up pocket Aces early to win a minimal pot immediately after taking the first hand of the day.
Hellmuth three-bet with King-Queen, but folded after a hefty four-bet from Negreanu.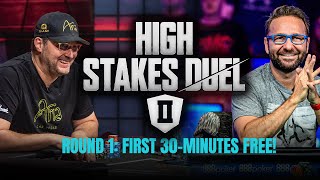 Early in the match, the action seemed to be going Negreanu's way and he'd built a small lead. About 20 minutes in, Hellmuth picked up A♣K♠ and put in a raise. 
Negreanu called with 7♠2♠ and the flop brought 8♠6♥K♣. Negreanu led out with 400 and Hellmuth quickly raised to 900 with his opponent folding.
However, much of the early action saw some precision play by Negreanu – winning numerous small pots. By the two-hour mark, Negreanu was up to 65,000 chips. He seemed in good shape to back up his predictions of victory.
Negreanu extends lead even more
By the three-hour mark, Negreanu built his stack to about 81,000 with Hellmuth holding on to 19,000. A hand developed with Hellmuth three-betting from the big blind with 9♦9♣ to 3,700 and Negreanu holding 6♦4♦.
Negreanu called and the flop brought 4♠3♥4♥ and it looked like Hellmuth might be heading out the door. Hellmuth bet 4,000, swelling the pot to 11,400.
That simply brought a call from Negreanu and the turn brought the 8♥. Both players checked and the 5♠ came on the river.
Negreanu bet 5,000 and Hellmuth folded with only 7,000 chips remaining. He boiled over in frustration.
"What you've done to me is criminal," he said. "Why would you call for all that money with the 4-6?"
Hellmuth stages a comeback
Shortly after that hand, Hellmuth held K♣9♣ with a board of J♠K♠Q♠J♦. Negreanu bluffed at the pot for 1,500 and Hellmuth amazingly folded with only 5,000 remaining.
That left Hellmuth with only about 5,000 and he picked up a pot with Q♣5♣ after catching top pair. A couple more losses, however, left him at 3,000.
From there, Hellmuth started getting some traction. He caught top pair with J-8 and won a small pot. A few more pots and Hellmuth built his stack to 26,000 – giving him some breathing room.
Hellmuth regained some energy and a particularly nice river gave him another nice surge. Both players saw a flop of 5♣A♠8♦.
Negreanu held A♥6♦ for top pair and Hellmuth had 10♣8♣ for middle pair. Negreanu bet 800 and received a call. The turn brought the 2♦ and Hellmuth checked with Negreanu firing 2,400.
That brought another call, building the pot to 8,000. The 10♥ fell on the river, putting Hellmuth in a great spot. He checked and simply called Negreanu's bet of 4,8000 for almost an 18,000-chip pot.
That moved him up to almost 40,000 by almost the fourth hour and Hellmuth continued to climb. Negreanu showed some valor however down the stretch.
One interesting hand saw Hellmuth with K♣7♥ on a board of 6♦K♥10♣3♦9♠ and 11,200 in the pot. Negreanu bluffed with a pot-sized bet holding J♣7♦. Hellmuth thought a bit before ultimately folding.
Completing the Poker Brat surge
That call would have moved Hellmuth into the lead. By the fourth hour, levels reached 600/1,200 and the match was basically even.
Hellmuth continued to roll in the final hour with Negreanu making some nice folds to stay in the match. A big hand late saw Hellmuth catch an inside straight on the turn and Negreanu find a set of Kings on the river.
From there, Hellmuth mounted plenty of pressure with 85,000 chips in front of him. Negreanu was left with less than 10 big blinds.
Negreanu appeared out the door when Hellmuth moved all in with A♥6♣. Negreanu called with K♦Q♣ for his last 10,900.
The flop brought 2♦7♣10♣ and then the J♣ on the river to give Negreanu plenty of outs. The A♠ hit the board on the river giving him a straight and keeping him in the match.
Ultimately, Hellmuth trapped his opponent with just a call from the big blind with 9♠9♦. Negreanu then moved the last of his 13,000 in and Hellmuth snap-called.
Negreanu showed 7♥6♥ and the flop of 8♥5♥J♣ made for quite a sweat. However, the turn and river of K♣ and 8♠ were no help for Kid Poker. That gave Hellmuth an unlikely fourth-straight High Stakes Duel title.
THE BEST SOCIAL POKER ROOM IN AMERICA
1
Free $20 Gold Coin Offer
With a Verified Account, PLUS
get as $40 Gold Coin Offer for $20
US Players Accepted
Daily FREE Sweeps Coins Just For Logging In
Texas Hold'em Ring Games, Tourneys, and SNGs
Chance to Win Cash Prizes
Plenty of hijinks in High Stakes Duel
The two players certainly seemed to be having fun throughout the match, despite some Hellmuth frustration. The comeback made for quite a bit of drama as both players showed tenacity in hanging on.
"I love heads-up now, it's fun," Negreanu said after the first hour. "It's a different vibe. You get to play every hand."
Hellmuth agreed with and seems to be on a roll in these events. His opponent minimized his heads-up skills in the prelude. However, Hellmuth certainly shows up in these live duels.
The Poker Brat patronized Negreanu a bit of his own when steaming after a couple tough spots. A frequent refrain was the Hellmuth line: "listen to your coaches."
As expected, the action got underway with some laughs. Hellmuth immediately mentioned the energy drink he's endorsing, Breinfuel.
Negreanu cracked a copy of Hellmuth's autobiography noting that his opponent "knows a lot of celebrities." He also needled the Poker Brat saying, "I check in the dark."
Early in the match, there was plenty of talk about a shiny championship belt awarded to the winner. Hellmuth quickly produced his previous belt at the table.
Hellmuth's interesting choices to eat some big meals during these matches also arose again. Only 10 hands in, he bit into a chicken sandwich. He later produced a 5-pound bag of Sour Patch Kids, maybe needling Negreanu's strict vegan, healthy living lifestyle.
"I always have food at these big events," Hellmuth said.
The event provided another nice streaming event for poker fans and Round 2 looks to be in the works already. 
"There will be a rematch," Negreanu said afterward, "I guarantee that."