General
Where Does Stones Cheating Scandal Fit Among Other Notorious Cases?
Cheating gives poker a black eye and has been the subject of many social media posts over the last week. Mike Postle, a regular at the Stones Gambling Hall located near Sacramento, Calif., is accused of cheating the property's streamed cash games.
The issue was first brought to light by stream commentator Veronica Brill. Postle regularly played hands in highly unlikely scenarios and seemed to never lose in the games.
Brill brought the situation to Stones management. Stones initially claimed an investigation had been conducted and there was no evidence of cheating.
But after Brill went public with her beliefs, players like Joey Ingram and Doug Polk analyzed hours and hours of poker hands.
The Best Social Poker Room in the USA
GET 100,000
GOLD COINS
On Sign Up

Get 100,000 Gold Coins
+ 10 'rare' entries to Jackpot Sit'N Go tournaments

Most US Players Accepted

Daily Free GC and SC

To Claim: Click Play Now

They focused on hands where Postle had played and raised with weak poker hands in highly unlikely spots. It seemed Postle couldn't lose and also never seemed to make a postflop mistake. He seemed to rarely, if ever, lose. Polk noted in his video analysis:
"Mike just always seems to maneuver himself into the perfect situation."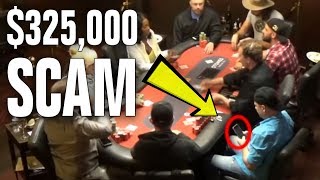 After the work of Ingram, Polk, and others, Stones changed its tune. The property announced the streaming would be stopped and another investigation conducted.
.@StonesGambling is suspending all broadcast of poker play, including live streaming, while we expand our multifaceted investigation with outside experts.
This investigation will be thorough & detailed. We will report the outcomes when they are available.

— StonesLivePoker (@StonesLivePoker) October 2, 2019
A quick look at the poker cheating scandal
Like most streams, the commentary at Stones is on a 30-minute delay. There has been conjecture on how he may have obtained opponents' holdings, but that remains unknown.
One thing is obvious when watching Postle videos – he appears to look in his lap when his winning hands develop. Many have wondered if he was receiving opponents' holdings via cell phone from someone in the streaming control room.
Others have argued that he possibly had an RFID reading device in play somehow. For his part, Postle denies all the allegations and took to Twitter to defend himself.
"I've played a unique high variance style my entire poker career and there's hundreds of players I've played with over the course of those 16 years who can verify that I've played the same style both online and live that entire time," Postle noted.
"The difference between myself and others is that I've put an enormous amount of time into not just studying the game, but into human behavior, picking up on betting patterns, as well as being blessed with very good instincts.
"I have had no other income other than poker. Not a trust fund baby, no rich family, just a guy who was blessed with desire to be the best he could be but not forgetting where he came from, his close friends and family, and that there's way more to life than playing poker."
Where does the issue go from here
The cheating scandal has taken the poker world by storm and even gained traction among mainstream media. ESPN's Scott Van Pelt even featured a segment on the issue on Sportscenter.
Van Pelt noted what many found troubling. Postle made hundreds of thousands of dollars almost exclusively on low-limit games with a video stream.
"I just ask this," he noted in the segment. "If any equivalent of a guy showed up to play pickup basketball and never, ever missed a shot for a couple years – wouldn't you play in the NBA?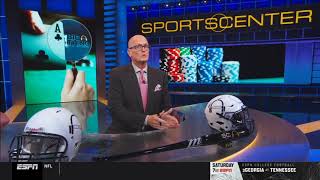 "If you're some poker god who almost never lost, who might the right fold or call virtually almost every single time – if you were this good, why would you be playing in games only with a video feed at a $1/$3 table at Stones poker room? Why wouldn't you be in Vegas winning all the money in the world?"
Stones announced that Michael Lipman would lead the investigation into the allegations. A former Assistant U.S. Attorney for the Southern District of California, he also headed that office's fraud unit.
USPoker also reached out to the California Bureau of Gambling Control and a spokesman noted: "To protect its integrity, we are unable to comment on, even to confirm or deny, a potential or ongoing investigation."
The case took another turn on Wednesday when 25 players, including Brill, filed a lawsuit seeking $30 million. The suit was brought against: Postle; King's Casino, which owns the Stones property; tournament director and poker production manager Justin Kuraitis; and any other unnamed conspirators in the alleged cheating.
A look at other poker cheating scandals
The Stones scandal won't be the last time cheating has been alleged to get an unfair advantage. There have been other incidents through the years.
Depending on the outcome, the Stones scandal could sit near the top because of the amount of attention it's garnered. However, there have been quite a few incidents through the years.
Those range from chip dumping and collusion claims to multi-accounting claims against some of poker's best-known players. Here's a quick look at some other cheating scandals that have gained notoriety similar to the Stones case.
Fake chips wreck a tournament
New Jersey's Borgata casino stages several poker tournament series throughout the year. At its Winter Poker Open in January 2013, 42-year-old Christian Lusardi, of Fayetteville, N.C., was busted for using counterfeit chips.
He faced charges that included rigging a publicly exhibited contest and bail was set at $300,000. Investigators uncovered that Lusardi worked at least 160 bogus chips into play into a $560 tournament.
The event brought in 4,814 entries for a total prize pool of $4 million. It was eventually cancelled with 27 players remaining. Those all received the remaining cash – $19,323 each.
Lusardi had been an early leader in the tournament, and ultimately cashed out for $6,814. However, he was convicted and served eight months in federal prison for the racket.
'Superusers' rock online poker
One of the biggest cheating scandals of the poker boom came from Ultimate Bet in 2007. Like the Postle scandal, players investigated a few accounts on the site that seemed to make every move correctly.
One of those accounts was fittingly named "Potripper." The "superuser" accounts allowed the player to see all opponents' cards.
The cheating and use of the accounts was eventually attributed to 1994 WSOP Main Event champion Russ Hamilton. He was caught on audio admitting to the scheme and it's estimated he bilked players of more than $20 million.
Hamilton said in a meeting among company officials:
"I did take this money and I'm not trying to make it right, so we've got to get that out of the way."
The whole scenario was even detailed in a documentary titled Ultimatebeat: Too Much to Lose. A similar scandal also rocked Absolute Poker. It turns out that seeing your opponents' hole cards makes online poker a much easier game.
Hole card hand gestures
One of the best-known cheating cases involves German player Ali Tekintamgac. He was first suspected of cheating in 2010 after winning the WPT Spanish Championship for €278,000.
Video surfaced of an alleged member of the poker media using hand signals to give away Tekintamgac's opponent's hole cards.
More cheating allegations surfaced following that event. Tekintamgac was denied a seat at the Partouche Poker Tour Main Event final table in Cannes that same year.
German authorities investigated the allegations and learned that Tekintamgac had several accomplices. In 2014 he was sentenced to almost three and a half years in prison for cheating-related fraud.
Will Postle see a similar fate or will he be vindicated after the Stones investigation? That remains to be seen.