General
BACK IN ACTION: 'High Stakes Poker' Returns to PokerGO With Plenty of Cash on the Line
Big cash, big hands, and big personalities. Those are some of the reasons poker fans fell in love with High Stakes Poker – and it all made for big fun.
Poker fans are in luck with the eighth season of the show returning to PokerGO with 14 new episodes. The show debuts on Wednesday, Dec. 16, with a lineup of high rollers ready for action.
Viewers can look for plenty of Hold'em and hijinks from players like Phil Hellmuth, Phil Ivey, Ben Lamb, Jean Robert Bellande, Bryn Kenney, and others.
The Best Social Poker Room in the USA
1
GET 150,000
GOLD COINS for $10
PLUS 30 FREE Sweeps Coins

Most US Players Accepted

Get Over 65% Off Your First Purchase
Daily Free GC and SC on Log In

Use Promo Code: FLUSH
Bringing back a poker classic
High Stakes Poker debuted in 2006 on GSN (Game Show Network) and was one of the first televised cash games. The show ran until 2011 and featured hundreds of thousands of dollars wagered in a single night.
Betting and bluffing such large sums of money was intoxicating for players more accustomed to small stakes poker games with friends. The table talk from players like Doyle Brunson, Antonio Esfandiari, and Mike Matusow only added to the entertainment value.
The series featured AJ Benza and Gabe Kaplan calling the action with Kara Scott later stepping in for Benza. Norm Macdonald replaced Kaplan in the show's final season and original episodes are also available on PokerGO.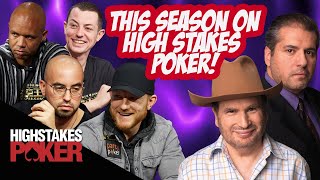 Originally filmed at the Palms, Golden Nugget, South Point, and Bellagio casinos, the action now shifts to the PokerGO Studio at Aria. PokerGO has gone all out to bring the show back a decade since it went off the air.
That process involved purchasing the show from GSN then building a stage similar to previous seasons. Producers then invited players they thought would mix well. Strict pandemic rules were also put in place to keep players and staff safe.
"Players were thrilled to find out the show was making a comeback," Poker Hall of Famer and legendary televised poker producer Mori Eskandani says. "Many were disappointed that they couldn't travel to participate due to COVID. The process was similar to what we've done in the past – finding a group of players who know each other well and are willing to mix it up on camera."
Finding that mix helps make the show more than just simply about cards and chips. While the stakes may be high, fans can relate to the needling, jokes, and festive atmosphere.
"It truly represents a raw, unscripted high stakes cash game," Eskandani says. "We don't make the rules, we react to the rules players make. That's why you will see many cash game situations like running it twice, sleeper straddle, and more in HSP first."
Fans can expect producers to continue with that winning formula. There are some new players, but the feel of the show remains the same. Benza and Kaplan are even back in the commentary booth for the revival.
Eskandani notes: "I'm confident the future seasons will build upon this season and get better and better."
Phil Hellmuth ready for High Stakes
No one may be more excited for the return of High Stakes Poker than 15-time World Series of Poker bracelet winner Hellmuth. He believes the show mixes "great personalities and great players."

The first episode has $400/$800 blinds with a $200,000 minimum buy-in and features Bellande, Kenney, Rick Salomon, Tom Dwan, Nick Petrangelo, and others.
Hellmuth wasn't up for playing as much during the show's first incarnation. Almost 10 year later he was happy to jump in the mix.
"I wasn't playing much No Limit Hold'em, not regularly, and I wasn't nearly as steady as I am now," he told USPoker. "I had trouble playing my best when I was tired. And my cash bankroll had me feeling short when I played. I lost money, and didn't look great doing it."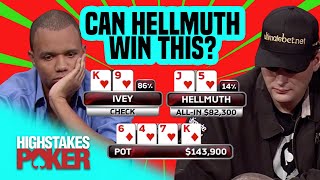 The Poker Brat says that's changed and he's won 23 of 25 times in televised cash games recently. That's included shows like Poker After Dark, Live at the Bike, Poker Night in America, and others. He felt ready and in Hellmuth style, hoped to show off his skills.
"This year on High Stakes Poker I risked $400,000 of my own money," he says. "I was comfortable, I knew that I had earned my seat at the table, and I was ready to show the world that I'm a great player."
What to expect on PokerGO
PokerGO has led the charge in offering live poker in recent years. High Stakes Poker adds to a growing lineup that includes shows like High Stakes Duel, Poker After Dark, WSOP Classic, and more.
When new High Stakes episodes go live, Hellmuth believes fans will be pleased. Look for plenty of chips flying around the table with plenty of jabs among players.
"The atmosphere was amazing," he says. "Fun, jovial, and Tom 'durrrr' Dwan put on quite a show. It's amazing that he can play so many hands, and still manage to win – truly impressive.
"We all get along so well, lots of laughter on the set. This group is so clever. Watching Dwan and Rick Solomon battle is great. I win a lot of money, but not by playing every hand. There aren't many players on the planet that can do that, play 40% of the hands and win big. But Dwan and Solomon are two of those rare guys."
The Best Social Poker Room in the USA
1
GET 150,000
GOLD COINS for $10
PLUS 30 FREE Sweeps Coins

Most US Players Accepted

Get Over 65% Off Your First Purchase
Daily Free GC and SC on Log In

Use Promo Code: FLUSH
Looking back with Doyle Brunson
When it comes to playing high stakes poker, Doyle Brunson might be more synonymous with those terms than anyone. The 87-year-old, 10-time bracelet winner still plays at some of the highest stakes around.
Like Hellmuth, Brunson describes High Stakes Poker as the "best show ever. Everything about it was good." While he hasn't been asked to appear yet, he's expecting an invitation soon and is interested in jumping in.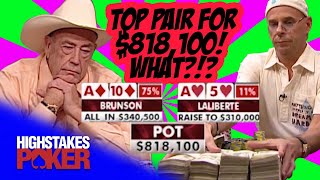 Brunson played in some of the original episodes and one aspect of the series sticks out in his mind. His memory coincides with some action and talk surrounding the current battle between Daniel Negreanu and Doug Polk.
This old school player plans on sticking to his experience and instincts rather than software and solvers.
"I remember Daniel Negreanu repeatedly ran into coolers," he says. "Those bad beats made people think Daniel was a bad player when he really is one of the elite players.
"Of course after hearing about all these solvers I know nothing about, I'm anxious to see if I can compete now. I've played nothing but mixed games for years."
On a show with so much money on the table and interesting personalities, which did Brunson enjoy more – the action or the camaraderie? Both it turns out – with a goal in mind.
Ever the card shark, Brunson used some of his opponents' bravado against them. His strategy brought plenty of paydays.
"Everybody was trying to impress the audience with unusual plays, so I played ABC hands," Brunson says. "I remember winning 15 times before finally having a loser."
High Stakes Poker debuts Dec. 16 on PokerGO.