General
Jaime And Matt Staples Win $150,000 Weight Loss Bet
One year ago, PokerStars Team Pro Jaime Staples weighed 305 pounds. His brother Matt Staples weighed 134.
Those numbers were a lot closer Sunday. In fact, they were exactly the same — 188.3 pounds.
The #UltimateSweat Challenge culminated in Reno, Nevada with a $150,000 payday for the Staples brothers as a result of a prop bet made with Bill Perkins last year. The two brothers stepped on the scale in front of tens of thousands of Twitch viewers and amazingly locked in at the same number, securing the victory over Perkins who congratulated them via phone call shortly after.
Jaime Staples had been open and honest about his weight-loss journey — a journey that included his brother, a structured plan, personal trainer Mike Vacanti, and an entire poker community cheering the Staples brothers to victory.
The #UltimateSweat Challenge
On March 26, 2017, while taking part in a series of live streams aboard the StreamBoat in the Virgin Islands, Perkins gave the Staples brothers a "life-changing moment."
While talking about prop bets and other shenanigans, a Twitch viewer mentioned in the comments that it would be "crazy" if the Staples brothers weighed the same amount.
Perkins immediately jumped on the suggestion. He offered Jaime and Matt 50:1 odds on a $3,000 bet that they would be within one pound of each year in one year's time.
The offer was accepted, and soon after they traveled back to Vienna and had to weigh in at a park because their place didn't have a scale. The scale would become their new best friend for the next year.
Balancing the scale
It's a mistake to think Jaime had to do all of the work. Matt had an equally challenging task. To win the bet, the brothers estimated that Matt would have to gain about 40 pounds and Jaime would have to lose around 130.
Staples talked about the origin of the bet and how it had already changed the direction of his life in the first #UltimateSweat Challenge update.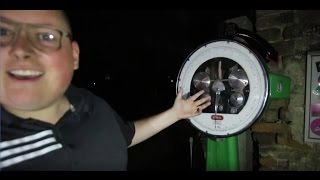 The year-long weight-loss journey
Over the past year, the Staples brothers have been streaming and vlogging across the globe making five different countries their home away from home for a short while.
A challenge like this is difficult when the conditions are perfect. The fact that Jaime and Matt were able to keep their eye on the prize while working and traveling is pretty impressive.
Staples made a point of posting consistent updates throughout the year on his YouTube Channel. The first month and a half, the brothers were tackling the challenge on their own. Then they brought on their trainer, Vacanti.
Vacanti immediately put Jaime on a nutrition plan that included 120 grams of protein, 80 grams of fat, and 40 grams of carbohydrates for a total of 1200-1500 calories. While the majority of the work was around nutrition, there was a regular workout routine added to the grind.
Matt ended up gaining more weight than initially thought, with a 3,500 calorie plan. The additional weight that Matt gained makes Jaime's side of the bet a bit easier.
You might think Matt added weight with a healthy nutrition plan. You'd be wrong. He ate whatever he could to add pounds while making gains by adding muscle to his frame through strength-training.
Both of the plans were designed to maximize the possibility of matching weights while providing a path to healthy and more realistic goals for each brother at the conclusion of the bet.
Earlier this month, Vacanti sat down with the Staples brothers and did a Q&A to talk about some of those goals.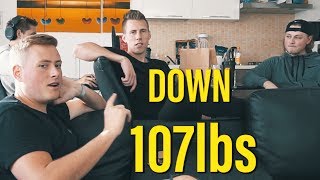 Bill Perkins and weight-loss prop bets
The Staples brother's final weigh-in follows on the heels of another weight-loss prop bet issued by Perkins.
Perkins was a guest on the Two Plus Two Podcast when he challenged Adam Schwartz to a $25k freeroll if he could lose 80 pounds in ten months. There was a catch, though. Besides weighing in at 150 pounds on Jan. 1, 2018, Schwartz had to weigh-in at 150 pounds for the following eight consecutive weeks to collect.
On Feb. 26, Schwartz successfully weighed in at 150 pounds for the eighth time and collected his winnings.
Schwartz said in a tweet: "Originally motivated by $. I can say now, the money isn't important. If you're unhappy with your weight/health, take that 1st step. I have a new life and you can too!"
In the end, money alone can't buy a healthy life, but it can be a motivator. Chances are Perkins made these bets with Schwartz and Staples brothers, not to make money, but to encourage positive lifestyle changes.
THE BEST SOCIAL POKER ROOM IN AMERICA
Free $20 Gold Coin Offer
With a Verified Account, PLUS
get as $40 Gold Coin Offer for $20
US Players Accepted
Daily FREE Sweeps Coins Just For Logging In
Texas Hold'em Ring Games, Tourneys, and SNGs
Chance to Win Cash Prizes
Watch the Staples brothers weigh in
The official end to the year-long challenge took place March 25 at 5 p.m. via a live stream from Run It Up Reno in Nevada.
Watch the tense moments before and during the weigh-in here via Jaime's YouTube channel: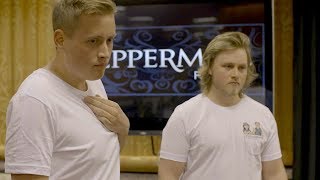 What's next for Jaime and Matt
Needless to say, the focus this last year for the Staples brothers has been to meet somewhere in the middle of their two starting weights. Now that it has been achieved, they will begin to plan their next set of goals.
One thing is for sure, continuing a healthy lifestyle tops that list. And another thing you can count on is you will hear about on their vlog or streams.
Lead image c/o Jaime Staples Twitter