General
Lucky 7: Phil Hellmuth Wins Again on PokerGO's High Stakes Duel; FOX Sports Host Nick Wright Battles But Comes Up Short
PokerGO's High Stakes Duel has become The Phil Hellmuth Show. He just keeps winning in the PokerGO Studio in Las Vegas.
The 15-time World Series of Poker bracelet winner chalked up his seventh-straight victory on Wednesday on the show. This time, the win came over FOX Sports host Nick Wright, although it didn't come without some fireworks. Hellmuth staged a comeback to score the $100,000 that was on the line for this third edition of the series.
THE BEST SOCIAL POKER ROOM IN AMERICA
1
Free $20 Gold Coin Offer
With a Verified Account, PLUS
get as $40 Gold Coin Offer for $20
US Players Accepted
Daily FREE Sweeps Coins Just For Logging In
Texas Hold'em Ring Games, Tourneys, and SNGs
Chance to Win Cash Prizes
Chit chat and chips moving
The back and forth between the two began quickly. Wright, who was sponsored by PokerStars for the match, charged Hellmuth with being an hour late. There were also some pre-match discussions regarding blind levels.
Ultimately, the match still went off and Hellmuth was quick to rake a pot early with three of a kind. He also quickly produced one of his snacks for the day – Pop Tarts.
Shortly afterward, Hellmuth hit a Jack-high straight flush. Things were off to a nice start early for the Poker Brat.
Wright added his own pot early with a straight, however, and took a small lead. He didn't show any fear of bluffing and took pots with inferior hands throughout the match.
Those watching for the Hellmuth dining options noticed a chicken sandwich right before the 30-minute mark.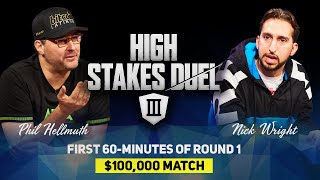 Wright takes an early lead
Wright's needles and table talk seemed to throw Hellmuth off his game at times. He led the match by about 20,000 at the hour mark. Hellmuth wasn't complimentary.
"I will tell you one thing, you are doing a bunch of stuff badly, but it has worked out well for you," he noted.
Some well-timed raises took down a few pots for Wright and left Hellmuth muttering early. That continued throughout the first half here and there.
Wright seemed to go in trying to offer Hellmuth as little information about his hands as possible. Looking for some hand discussion? Wright had no interest in revealing what he really held. That helped his cause initially.
Wright has played poker for several years and said he did some serious reviews of Hellmuth's heads-up play. The combative back-and-forth fun made for some interesting viewing.
"I'm not trying to irritate you," Wright said.
Despite that, Hellmuth seemed irritated and frustrated at times early. But at this point, that may be the Poker Brat's usual routine.
Ace-high for a win
One particular hand saw Wright rake a pot with Ace-high after calling several Hellmuth bets. That produced some chuckling and words from Hellmuth.
"That's what I need, people to call me light," he said. "That's how I win all my matches."
Another big win with two pairs after that hand brought a Hellmuth walk around the studio with a multitude of F-bombs. He recovered to win a nice pot with A-10 shortly afterward.
Hellmuth closes the gap
By the first break, Wright won 40 of the first 62 pots in the match and held a 3-to-2 chip advantage. He seemed unafraid to mix it up and his efforts at confusing Hellmuth seemed to be working.
Shortly afterward, Hellmuth grabbed a big pot with pocket Sevens with a board of 4♦4♠4♣3♦Q♠. Wright chose to call again with A♠9♦, but this time Ace-high wasn't good enough. Hellmuth pulled in almost 22,000 chips.
Just like that and the match was almost back to even. At about the two-hour mark, Wright set a nice trip with Q-Q and caught quads by the turn.
Hellmuth put in a couple bets and Wright looked anguished, even using a time extension. Hellmuth continued firing on the river, but a quick raise sent Hellmuth's hand to the muck. That brought another self-lecture by the Poker Brat.
THE BEST SOCIAL POKER ROOM IN AMERICA
1
Free $20 Gold Coin Offer
With a Verified Account, PLUS
get as $40 Gold Coin Offer for $20
US Players Accepted
Daily FREE Sweeps Coins Just For Logging In
Texas Hold'em Ring Games, Tourneys, and SNGs
Chance to Win Cash Prizes
Hellmuth recovers for second half surge
Despite being flustered at times, Hellmuth recovered in the second half of the match. Just before the halfway mark, that included a nice river call with Q-10 and no pair.
The move picked off another Wright bluff and scored Hellmuth a pot. As the match became extended, he just seemed to figure things out more.
Three hours into the match, Hellmuth had moved to a 2-to-1 chip lead. He began picking off Wright later in the match.
"I'm just trying to play perfect," Hellmuth said at one point.
That included applying plenty of pressure and making big river calls. The match saw its first all-in moment at the four-hour mark. Wright shipped what remained of his stack with 5-5 against Hallmuth's Q-J. The flop brought 5-3-3 for a Wright full house to double up.
By the five-hour mark, Hellmuth still held a nice lead and he kept raking pots.
Closing the show
In the end, Hellmuth proved just too much for Wright. While viewers may see Hellmuth explode at times, one has to wonder if it becomes just part of doing business for the Poker Brat.
In the first seven matches, losing control hasn't really been an issue despite his blow-ups and antics. That continued on Wednesday.
Wright broke down the final hand of the day on Twitter. Both players caught a flush, quite a cooler for this FOX Sports rec player.
Battled for 6 hours. Played some of the best (and a bit of the worst) poker of my life… and with the blinds at 800-1600, Phil called my check raise on the river in a 59k pot.

I had 6c7c for a 7 high flush… he had 8c5c for a 8 high flush.

Coolered & gutted. GG @phil_hellmuth pic.twitter.com/nUgzchfJql

— nick wright (@getnickwright) July 29, 2021
In these kinds of situations, Hellmuth has just seemed to have the nuts. That's been the case in some critical situations and has carried him to seven straight wins. Love him or hate him, Hellmuth brings plenty of heads-up skills.
"I played well for the first two hours and really, really badly for an hour," Wright said afterward. "I was clawing my way back from it, but that last one's tough. Phil played great."
Hellmuth was complimentary when the six-hour match came to an end.
"Nick bluffed my shoes off, and kept me completely off balance by lying about his hands afterwards," he noted on Twitter. "After watching the match just now: my eyes are wide open! Good match Nick, well played!"