General
Poker at the Movies: Russel Crowe's New Film 'Poker Face' Hits Theaters This Week
Poker fans have a new movie to check out starting this weekend called Poker Face. Not to be confused with the Lady Gaga hit, this film takes place in a world of high stakes poker, business, and espionage.
"Life's just a game, it's all how you read and respond to your opponents," Russell Crowe's character Jake Foley says in the film.
Crowe serves as writer, director, and star of Poker Face, playing a gambler Jake Foley involved in a card game among high-tech billionaires. Things go wrong, however, when a killer is located in the house. Players at the game find out the stakes have been raised when secrets are exposed.
The action certainly goes beyond the poker felt. Co-star Liam Hemsworth describes the film as " a psychological thriller."
The Best Social Poker Room in the USA
GET 150,000
GOLD COINS FOR $10
+ 30 FREE Sweeps Coins

Most US Players Accepted
Daily Free GC and SC

Get Over 65% Off Your First Purchase

Use Promo Code: FLUSH
Diverse cast put together for Crowe's poker game
Along with Crowe and Hemsworth, the film includes notable actors such as RZA and Elsa Pataky. The story revolves around Jake, who has amassed a huge fortune in the tech world and invites his friends to join him in a poker game they won't forget.
With $25 million on the line, the game is worth more than they think. The plot takes a turn when an unexpected guest arrives and ruins the game.
Screen Media acquired North American rights for the movie in September from Arclight Films. According to the company, "As the game unfolds, the friends will discover what is really at stake."
In October, Crowe posted a first look at the trailer. The film has a suspenseful overtone with a mix of cards and mystery entangled in the plot.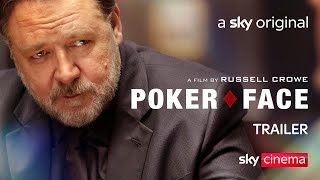 WPT's Lynn Gilmartin gets into the game
Real-life World Poker Tour host/commentator Lynn Gilmartin makes an appearance in the film as well. Recently inducted in the Australia Poker Hall of Fame, Gilmartin plays the role of Allison Foley.
Including Gilmartin in the film adds some poker legitimacy to the production. Gilmartin has acted in more productions in recent years and her IMDB list now includes over 13 appearances.
Last night's premiere of Poker Face, the film!!! @AngelGuillen25, Bodhi and I had the honour of working with @russellcrowe on the poker scenes which look sensational up on the big screen in all the glory of movie magic! 🤩 🎞️ aaaand look out for me as Allison Foley! 👀 pic.twitter.com/c7axMzhaIP

— Lynn Gilmartin (@LynnGilmartin) November 16, 2022
Movie antes up in theaters
Poker Face is set for release on Wednesday in select theaters and via streaming platforms including Amazon Prime, Vudu, Apple TV, and Redbox on Nov. 22.
Poker has been a popular topic for Hollywood. The Card Counter was released in 2021 with a gritty storyline that earned nice reviews.
So far, early reviews have been mixed for Poker Face. For players, the movie offers a look at a high stakes game on the big screen again. Players and fans can judge for themselves.
Or as Jake says in the movie, "Don't be glass half-empty or half-full people. Be the kind of people who know whatever trial or disaster comes along, you can always refill the glass."
* Lead image courtesy Screen Media