General
Mega Bucks: PokerGO Checks in With 'Cash of the Titans' Hand of Almost $2 Million
The high stakes cash game action heated up at PokerGO over the weekend with the streaming service's No Gamble, No Future live stream seeing a pot of almost $2 million on Sunday.
The hand involved poker legend Patrik Antonius and high stakes regular and Maverick Gaming CEO Eric Persson. The action becomes the largest pot ever broadcast on a US poker live stream.
This follows a string of massive cash games seen over the last few years including a seven-figure pot from December..
The Best Social Poker Room in the USA
1
GET 150,000
GOLD COINS for $10
PLUS 30 FREE Sweeps Coins

Most US Players Accepted

Get Over 65% Off Your First Purchase
Daily Free GC and SC on Log In

Use Promo Code: FLUSH
Antonius scores $2 million cash game hand
The record-setting hand took place from inside the PokerGO Studio in Las Vegas as part of No Gamble, No Future's "Cash of the Titans" game. Antonius is one of the most iconic high-stakes cash game players in poker. Persson also plays for major stakes, as he told USPoker last year after a battle with Phil Hellmuth.
The massive Cash of the Titans hand developed on the third and final day of the show. Persson opened with a raise to $7,000 with Q ♥ 9 ♥ . That brought a call from Rob Yong with A ♣ 2 ♣ and then a three-bet to $30,000 from Antonius (pictured in lead image, courtesy PokerGO) with A ♥ K ♥ .
Persson and Yong both called and the players saw a flop of 3 ♥ 3 ♣ 8 ♥ . Antonius bet out with $40,000 and Persson instantly raised to $140,000. Yong folded and Antonius thought a bit before raising to $250,000. Persson called, swelling the pot to $594,000.
"Let's go," Persson noted as he put out his chips.
The A ♠ fell on the turn, giving Antonius the pot, only possibly losing to a bluff. He bet $150,000 and Persson quickly moved all in for $692,000.
"What do you have?" Antonius questioned, but quickly announced a call. The result? A record-setting pot of $1,978,000 heading Antonius's way and a devastating blow to Persson's chip stack.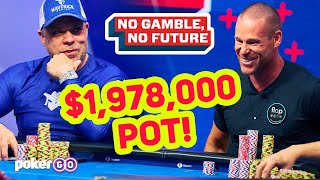 Hustler Club Live seven-figure pot
The PokerGO hand follows some other massive hands seen on cash game streams in recent years. In December, Alan Keating secured a $1.2 million pot in a Hustler Club Live streamed cash game.
The hand saw a player named "Handz" raise to $9,000 preflop with A ♠ 7 ♥ and received three calls. One of those also happened to be Persson.
The flop brought 6 ♠ 10 ♠ 5 ♦ and Handz bet $25,000. Persson and another player folded, but Keating called with K ♠ 2 ♠ .
The turn brought the 4 ♦ , giving Keating a flush draw and inside straight draw. He checked and Handz, who held an open-end straight draw, bet $70,000.
Keating called, moving the pot to $270,000. Both then saw 7 ♠ on the river, giving Handz a pair and Keating a flush. After thinking a bit, Keating led out with a bet of $155,000. Handz thought for a while and questioned his opponent's chip count a bit.
Holding the A ♠ , Handz announced all in and put the screws to Keating by representing the nut flush. With a huge decision, he thought a few minutes before eventually making the call, collecting a pot of almost $1.2 million.
THIS JUST HAPPENED!!!

$1,158,000 POT — that's nearly $1.2 MILLION!!

The biggest pot in U.S. poker live stream history!! The biggest pot in U.S. poker broadcast history!!@Mister_Keating is a legend!! pic.twitter.com/EhcpqfJItw

— Hustler Casino Live (@HCLPokerShow) December 16, 2022
Inside the 'Big Game'
Poker fans have become enthralled by some of these massive hands. For most players, a seven-figure or even a six-figure pot seems far from their reality. In 2018, Daniel Negreanu offered players a look inside the "Big Game" at Bobby's Room inside the Bellagio.
The action featured mixed games with $800/$1,600 blinds and higher. Doyle Brunson, Antonius, Elia Elezra, and Gus Hansen are among those regularly at the table.
The usual buy-in is in the range of $200,000 and up. Negreanu bought in for $300,000 and offered a first-hand view of what has become a bit of a mythical cash game among players.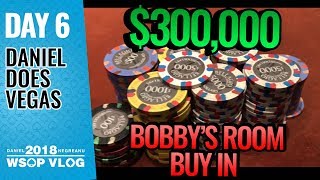 The Best Social Poker Room in the USA
1
GET 150,000
GOLD COINS for $10
PLUS 30 FREE Sweeps Coins

Most US Players Accepted

Get Over 65% Off Your First Purchase
Daily Free GC and SC on Log In

Use Promo Code: FLUSH
Tony G scores a million
When it comes to another massive pot, the Triton Cash Game Series saw some huge betting in 2019. The action took place in London with No Limit Hold'em stakes of £1,000/£2,000 and up.
High stakes regulars Tom Dwan, Tony G, Elton Tsang, and Paul Phua were among those at the table. Tony G and and partypoker ambassador Mikita Badziakouski, of Belarus, squared off in a herculean hand.
Tony G raised preflop and bet the action all the way through the river after hitting top pair and holding K ♦ 9 ♠ .
Still with the nest hand and top pair on the river, Tony bet €120,000 only to see a gargantuan raise from Badziakouski – putting Tony to the test. The Belarusian made it €400,000 but Tony G called pretty quickly considering the pot. He raked a pot of almost €1.1 million. This was the last hand of the day and Tony celebrated with a bit of bravado.
"I'm the best!" he yelled afterward. "The best!"