General
Crazy Call? Phil Hellmuth's Queen-Four Play Sets Poker World on Fire, Draws Plenty of Criticism
Phil Hellmuth brings plenty of strong opinions and that included a massive hand that played out over the weekend. An "unorthodox" call by the 16-time World Series of Poker champion in PokerGO's US Poker Open left many players scratching their heads.
Playing for all his chips with a weak hand left Hellmuth facing plenty of criticism about his play. USPoker took a look at the hand and some of the strong reactions it brought.
The Best Social Poker Room in the USA
1
GET 150,000
GOLD COINS for $10
PLUS 30 FREE Sweeps Coins

Most US Players Accepted

Get Over 65% Off Your First Purchase
Daily Free GC and SC on Log In

Use Promo Code: FLUSH
Queen-Four for the win
The hand in question came in Event 9: $25,000 No Limit Hold'em. Hellmuth was one of five players remaining and
blinds were at 30,000-60,000 with a 60,000 big blind ante.
Alex Foxen, holding 9♠9,♦ started the action with a raise on the button to 125,000. In the big blind, Hellmuth sat on a stack of 890,000 and re-raised to 350,000.
The Poker Brat held Q♦4♥, certainly not a premium hand, but he was apparently making a move. After a bit of thought, Foxen moved all in for the remainder of his chips.
Most viewers probably believed that would be the end of the story. Hellmuth would surely send his hand to the muck and live to fight another day.
But as the hand played out, that wasn't the case. He began counting his chips and looked to seriously consider making the call for his tournament life.
"This would be horrific," commentator Brent Hanks noted on PokerGO, "arguably one of the worst decisions of his poker career."
Ultimately after considerable thought, Hellmuth couldn't get away from the hand for some reason.
"I guess I better play to win," Hellmuth said before sliding the remainder of his chips into the pot.
Foxen had a 71% chance to win once the hands were tabled. Of course a Queen not only came on the flop, but another one spiked on the river as well. Hellmuth raked a pot of 1.9 million chips.
"You're not going to find this in any strategy books or tutorial videos at home," Hanks told viewers.
Afterward, Hellmuth eventually found himself heads-up for the title with Erik Seidel, who went on to win for $472,500. Hellmuth scored $315,000 for runner-up.
Backlash for the Poker Brat
The pot went Hellmuth's way, but the play brought plenty of criticism. Many critics had no idea why Hellmuth would risk his tournament life on such a weak hand.
Many players see the 1989 WSOP Main Event champion as a player who is almost overly tight in conserving chips late in a tournament on a short stack. The Queen-Four call seemed out of character and many simply labeled his call as terrible.
"What color magic is this one?" Daniel Negreanu Tweeted, a reference to Hellmuth's famous line of having "white magic."
Others noted that Hellmuth wouldn't handle the hand as stoically as Foxen had were the roles reversed.
"The tirade Phil would be going on if anyone played this badly and got this lucky versus him wouldn't be over by the 2025 WSOP," two-time bracelet winner Eric Froehlich responded on Twitter.
Some referred to the call as "brown magic" and believed under normal circumstances, this play shouldn't have given him a shot to win. One commenter even wondered if Hellmuth may have misread his hand as Ace-Four.
That seems unlikely, but shows just how out of the norm many viewed his call. Here's PokerGO's complete coverage of the hand.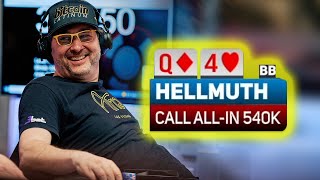 Playing defense
While there were numerous criticisms of the play, there were also defenders. Some felt Hellmuth held a short stack and may have felt Foxen was on a complete bluff.
Others noted that he'd at least have live cards against even a strong hand like Ace-King. Getting lucky in that spot could give him a much-needed double-up.
If that happened, as it did, he'd also weaken a super-tough opponent like Foxen, who finished third for $220,500. Foxen offered his own quick view on the subject afterward and disagreed with anyone defending Hellmuth.
Had been on a twitter hiatus and then log on today to see people non ironically defending Q4o as a reasonable 3b/c candidate 16bb eff. pic.twitter.com/NdnrK94vaL

— Alex Foxen (@WAFoxen) March 26, 2022
Some players believed Hellmuth indeed played unwisely, but that a poor play by one of the game's best gets amplified on such a large stage. Nobody's perfect, they argued.
"Phil Helmuth is the only poker player on the planet not allowed to play a bad hand," one poker fan noted on Twitter.
Plenty of memes followed, mocking Hellmuth's unique call. He seemed to take them in stride, retweeting many and also adding a bit of his own self-deprecation.
Official announcement: after a lot of debate, reflection, and careful study, I have decided to add Q-4 off suit to my list of "Top Ten Hands." AA, KK, QQ, AK, JJ, 10-10, AQ, 9-9, 8-8 and Q-4: I dropped 7-7. Also, @KevinRobMartin has a chart that reflects the current value of Q-4 pic.twitter.com/ntx4WISKb8

— phil_hellmuth (@phil_hellmuth) March 26, 2022
The Best Social Poker Room in the USA
1
GET 150,000
GOLD COINS for $10
PLUS 30 FREE Sweeps Coins

Most US Players Accepted

Get Over 65% Off Your First Purchase
Daily Free GC and SC on Log In

Use Promo Code: FLUSH
Galfond offers some analysis
One of the deepest analyses of the hand in question came from poker pro and Run It Once Poker founder Phil Galfond.
"We've been here before," Galfond posted. "Phil Hellmuth makes a play that looks ridiculous, and all the poker fans at home – including top players – are quick to jump all over him."
Galfond argued that the play may not have been so unorthodox after all. The call was the type of mistake he's not seen
Hellmuth make after watching him play for years.
Hellmuth's greatest asset is his ability to read opponents, Galfond argued. He believes that ability came into play.
"Obviously, when Alex opened, Phil made a read," he wrote. "I think we can all agree he'd never three-bet a hand like Q-4 offsuit otherwise. Alex is a very experienced live pro who took just one pre-flop action, so I don't think even Phil is capable of putting him on a precise hand yet.
"Here, he puts Alex on a range, a collection of hands that he believes Alex would play this way, and would look/feel exactly the way he did while playing them."
The poker pro deduces that Hellmuth probably believed Foxen held middling cards, 6 through 9. This would have made him an equity favorite and Foxen may have folded those types of hands.
"Hellmuth knows that, given the tight image he has cultivated for decades and the vibe/energy of strength he can intentionally give off while three-betting," Galfond notes, "there's a good chance Alex can't even continue with any of his opening range.

"That said, in my very humble opinion, I don't think Phil should've put himself in that spot."
Whatever one's belief about the hand, the controversy certainly brought some extra excitement to the US Poker Open.