General
Tom Dwan Gets It Done – Ends Phil Hellmuth's Streak on PokerGO's 'High Stakes Duel'
Two poker heavyweights clashed on Wednesday night on High Stakes Duel at the PokerGO Studio in Las Vegas. Phil Hellmuth came into the match with a 7-0 record on the show, but Tom Dwan ended his reign.
After building a lead in the first half, Dwan took command – shifting gears and frustrating the Poker Brat at times. The high stakes pro scores $200,000 for the win and Hellmuth can now rematch if he'd like.
Here's a look at the details when when the even got underway.
Blind levels: 30 minutes
Chips: 100,000
Stakes: $100,000 each
Early action goes Hellmuth's way
A big hand developed early with Hellmuth's K♠5♣ catching a a nice board of 5♥5♦8♦. With 8♣6♠, Dwan made a small bet and Hellmuth called.
The K♣ on the turn gave the Poker Brat a full house and Dwan checked. Hellmuth bet 1,000 into a pot of 5,200 and his opponent called.
The Q♦ fell on the river and Dwan checked again. Hellmuth bet 2,200 and Dwan made the call. The 11,600 pot went Hellmuth's way and he took a small early lead.
The two players were amicable early in the match, but the episode lacked some of the back and forth conversations seen in earlier matches. Dwan is more reserved than Hellmuth's previous opponents, Antonio Esfandiari, Daniel Negreanu, and Nick Wright.
Not every episode can be festive and full of laughs however. Either way, Hellmuth kept stacking chips early. He also broke out his first meal early.
Those betting Sour Patch Kids would be his first bite to eat lost that wager. At the 25-minute mark, Hellmuth dug into a tasty-looking club sandwich.
He not only picked up his sandwich, but picked up nice hands early. He won some early hands with pocket Aces and Nines as well as Ace-Jack and Ace-King. It just seemed Hellmuth couldn't lose in the early stages.
Poker Brat continues rolling
Not only did Hellmuth catch some nice cards in the first hour, but also made a great call. After flopping two pairs with Q♣6♣, Dwan made some big bets on the turn and river with an open-end straight draw.
The bluff didn't deter Hellmuth. Dwan missed his draw and Hellmuth raked the biggest pot of the action so far at the 40-minute mark for more than 36,000.
Shortly after that, Hellmuth turned a straight for another nice pot. Nothing seemed to be going Dwan's way early and he just couldn't seem to catch many cards.
That brought about a second food item, this time a sip of a beet root probiotic drink as Dwan sipped green tea.
Hellmuth mixed in plenty of aggression with his strong hands and worked in some bluffs as well here and there. It seemed nothing wouldn't work at times.
Small pots pick up some steam for Dwan
Just short of an hour, however, Dwan found a hand. His Ace-Queen hit two pairs and Hellmuth held 5-5. Hellmuth was able to fold on the turn and Dwan added an 8,700 pot. He caught a full house later as well, but only for a small pot.
However 13,400 chips swung his way when he rivered 9-high gutshot straight. That brought the first semblance of muttering from Hellmuth. He talked to himself a bit, including an F-bomb, but the blowup ranked fairly low on the Hellmuth Richter scale.
Hellmuth bounced back by winning the next pot and even broke out food item No. 3. This time Hellmuth munched on an untoasted Pop-Tart.
As commentator Nick Schulman noted, Hellmuth showed no fear in raising Dwan with marginal-type, middle-pair hands.
"Well done from Hellmuth," Schulman said. "That's a few times he's done this now with these middle of the road kind of hands, not scared to [re-raise]."
Dwan showed some visible frustration at times, although not at the level that may have been seen from Hellmuth.
However, Dwan seemed to gain some traction and picked up some pots in the second hour. Just past the two-hour mark, he had 8-5 and flopped a straight and raked a decent pot.
After some initial frustration, Dwan started finding some success and chipped away at his opponent. That helped move the chip stacks back close to even.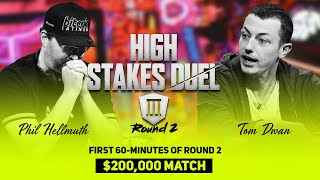 Dwan gains momentum
After the two-hour mark, things shifted Dwan's direction in a big way. A key hand saw Hellmuth miss straight and flush draws with K♠9♠. Dwan hit two pairs on the flop with Q-10 to take a nice pile of chips and the lead.
The hand brought Helmuth out of his chair bemoaning his bad luck followed by an audible high-pitched wail.
"I've got you talking to yourself," Dwan noted at one point. "If you had somehow won without talking to yourself then I would have been tilted."
Hellmuth simply called preflop a hand later with A-Q to catch an Ace on the flop. Dwan caught second pair, but folded after the turn.
Dwan continued catching some hands and frustrating Hellmuth. He seemed amused by his opponent's antics at times. By the third hour, Dwan has built a 50,000-chip lead.
Turning up the pressure
The second half of the five-plus hour match went mostly Dwan's way. He mixed up his techniques, flexing some aggression at times while also allowing Hellmuth to build the pot.
After turning a straight with his 10-7, Dwan chose to check. Hellmuth had A-4 with no draws. After a Hellmuth bet, Dwan announced all in to get a fold and a 3-to-1 chip lead. The Poker Brat continued ranting afterward.
Dwan continued with some aggression here and there. Just past the three-hour mark, he forced Hellmuth to fold two pairs by moving all in on just a flush draw.
For the last couple hours, Dwan seemed steady. Just before the fifth hour, Dwan made a nice fold with K-Q after Hellmuth's limp-shove with A-K.
As Hellmuth slipped further, Dwan continued with some all-in moves to get a fold. The plan worked despite Hellmuth battling gamely on a short stack.
The final hand saw Hellmuth dealt A♥A♣ and set a trap by simply calling. Dwan held 9♠3♣ and caught middle pair on a board of 5♣2♥3♥.
Dwan bet 5,000 and Hellmuth moved all in for the last of his 20,000. After a call, Dwan looked to be in rough shape. But a 9♣ on the turn, followed by the 6♣ on the river, gave Dwan the match.
The result snapped Hellmuth's High Stakes Duel streak at seven matches.
Inside the action
This High Stakes Duel match was interesting overall, but lacked some of the antagonistic fun from some of the earlier matches. Coming into the day, Hellmuth knew Dwan would be a real challenge and expected some differing styles.
"Tom is just a great player," Hellmuth said. "He does weird things, he's very interesting. He might call off half his stack with seven-eight suited and get there."
Early in the match, Hellmuth seemed as if he could do nothing wrong. Dwan almost looked bored at times, but that may have just been some frustration.
Decent cards were few and far between and Hellmuth ran hot the first hour. Some patience paid off for Dwan. He mixed his game up quite a bit to put Hellmuth to some big decisions.
​​"I think I adjust how I play more than most people do depending on what other people are doing in the game," he said after the match. "So I definitely made some unconventional plays there. Some I think some were good, some I think were bad."
His all-in moves and hefty raises left Hellmuth no room for error. Dwan also made some excellent folds in the second half and played well. Overall, he enjoyed the experience.
"I like new formats and trying new stuff," he said. "I don't know if this will be going for 20 years or whatever, but I think it's neat when you try something new and see what happens, and see if people like it."