General
Bad Beat Monthly: Keith Becomes the Crusher, Dan Cates Finds Quads, & More
February is a short, cold month but the bad beats and coolers continued for some unfortunate players on the felt. Last month showed no mercy for Robbie Jade Lew. Other players like Dan "Jungleman" Cates made out well when things flopped in their favor.
Another player actually relives his story on national television when he was wrongly banned from a casino. Other online players got smoked in some of the worst ways possible. This month's Bad Beat Monthly also includes some massive six-figure pots.
Players may debate what a "bad beat" actually is. Some may call this type of hand a cooler, but a bad beat generally refers to a situation in which a player with a very strong hand loses to an opponent with what appears to be a much weaker hand that draws to a winner. Sometimes a bad beat might be an unlucky spot that's simply unavoidable.
Each month USPoker highlights some of these misfortunes in live and online poker.
♠♠♠ Bad Beat Monthly offers a recap and highlights some bad beats at the poker tables. If you have a screenshot or video of a bad beat, please tag @USPoker on Twitter each month to be highlighted in Bad Beat Monthly. ♠♠♠
The Best Social Poker Room in the USA
1
GET 150,000
GOLD COINS for $10
PLUS 30 FREE Sweeps Coins

Most US Players Accepted

Get Over 65% Off Your First Purchase
Daily Free GC and SC on Log In

Use Promo Code: FLUSH
Robbie Jade Lew in a rough spot
The cash game phenom has been at the center of some controversy lately. She recently found herself in a bad spot live on the Lodge Card Club stream. Lew flopped a set of 7s on a board of K ♦ 10 ♦ 7 ♠ .
The hand got juicy as "Keith" held Q ♦ 9 ♦ . He ultimately hit a straight and won the hand, even after running the board twice.
The hand may not have been an extreme cooler. But anytime a player loses a $155,800 pot, it has to leave a bad feeling.
Cates' quads annihilate a boat for $839,000
Dan "Jungleman" Cates flopped a monster in the Triton Poker high stakes cash game. Cates pocket 8s turned into quads on a flop of 8 ♥ 6 ♣ 8 ♥ .
Punnat Punsri assumed he was sitting pretty with pocket Aces. He figured he had the money in the bag when a full house developed on the turn as the A ♦ landed.
Punsari's boat was no good though, and ended up shipping Cates an $839,000 pot.
Runner-runner bad beat delivered
Ryan "Protential" Laplante got it all in on WSOP.com with his pocket 10s on a flop of 7 ♠ 8 ♥ 8 ♠ . He appeared to be in bad shape when "HUNnSWISS" showed 8 ♣ 8 ♦ for quads.
To Laplante's amazement, the board ran out 10 ♥ 10 ♣ on the turn and river to give him the upper hand. Quads over quads is a rare accomplishment, and the fact that Laplante hit running cards to get there is even more amazing.
Brian Keane gets bounced from a casino
Nerdthusiast Poker Podcast host Brian Keane was recently featured on the CBS game show Lingo. In the show Keane gave host RuPaul some background about his life including the story about how he was wrongfully banned from a casino.
A bad beat jackpot payout went horribly wrong at the old Revel casino in Atlantic City. The story involved the casino closing the poker room and working to pay out a bad beat jackpot of about $250,000.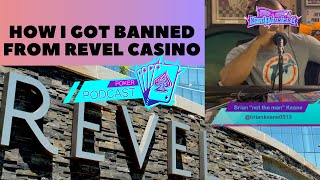 US bad beat jackpot tracker
Bad beat jackpots are a widely-used promotion in casino poker rooms. A portion of each cash game hand is contributed to the jackpot. When a strong hand, such as quads, loses to an even stronger hand, the jackpot is activated and results in a significant payout.
The player who loses the hand typically receives the majority of the jackpot, with the winner and other players at the table also receiving a share. Here are some current top bad beat jackpots from across the country as of Feb 26.
Rivers Casino (Pittsburgh, Pennsylvania) – $406,298

Santa Fe Station Red Rock/Boulder (Las Vegas) – $232,300

Mohegan Sun (Poconos, Pennsylvania) – $159,316

Parx Casino (Bensalem, Pennsylvania) – $147,999

Maryland Live Casino (Hanover, Maryland) – $100,000

Borgata Casino (Atlantic City, New Jersey) – $100,000

Mount Airy (Poconos, Pennsylvania) – $108,582

Hard Rock (Tulsa, Arizona) – $81,000

Foxwoods Casino (Connecticut) – $80,980
MGM Grand (Detroit, Michigan) – $64,436

Rivers Casino (Philadelphia, Pennsylvania) – $50,000

Mohegan Sun (Uncasville, Connecticut) – $35,736

Oneida Casino (Green Bay, Wisconsin)- $27,000

Windcreek (Bethlehem, Pennsylvania)- $24,483

Tropicana/Harrahs (Atlantic City) – $10,000
The Best Social Poker Room in the USA
1
GET 150,000
GOLD COINS for $10
PLUS 30 FREE Sweeps Coins

Most US Players Accepted

Get Over 65% Off Your First Purchase
Daily Free GC and SC on Log In

Use Promo Code: FLUSH
International bad beats
Traveling abroad? Over in the United Kingdom, Grosvenor Casinos have a nationwide jackpot that can be hit at any of the company's casinos when quad 4s is beaten. The jackpot currently hit at $265,000 on Feb. 3.
♠♠♠ Does your poker room have a high bad beat jackpot or a good bad beat video? Then please tag @USPoker on Twitter. Bad Beat Monthly offers a recap and highlights bad beat hands at the poker tables. ♠♠♠