General
Hellmuth Goes Five in a Row With Second-Straight Win Over Negreanu on PokerGO's 'High Stakes Duel'
High Stakes Duel II brought about some changes on Wednesday night o PokerGO. Gone was the red jacket for Daniel Negreanu, replaced by a camouflage jacket as he prepared for some poker warfare. 
Phil Hellmuth brought a more modest package of Sour Patch Kids to the table. He also acknowledged he'd be bringing a new approach right out of the gate.
"It's going to be a little different battle today Daniel," Hellmuth noted in the first few hands.
Negreanu planned on bringing a few strategy alterations as well but was ready to adjust. In the end, Hellmuth found the winner's circle yet again – making it five wins in a row on the show.
Hellmuth has now topped Antonio Esfandiari three times and Negreanu twice. Getting to number five wasn't easy however, in a day that featured some swings.
THE BEST SOCIAL POKER ROOM IN AMERICA
1
Free $20 Gold Coin Offer
With a Verified Account, PLUS
get as $40 Gold Coin Offer for $20
US Players Accepted
Daily FREE Sweeps Coins Just For Logging In
Texas Hold'em Ring Games, Tourneys, and SNGs
Chance to Win Cash Prizes
Hellmuth takes an early lead
Both players started the event with 100,000 chips and escalating blinds. Hellmuth and Negreanu came into the event with plenty of accusations and trash talk flying. Hellmuth took a slight lead after catching three of a kind with 9♥6♦. After calling a preflop raise, the board brought 9♦9♣2♣.
Hellmuth checked and Negreanu fired with 8♦2♦. Hellmuth called with an 8♥ coming on the river. Negreanu bet 1,500 before Hellmuth raised to 4,500.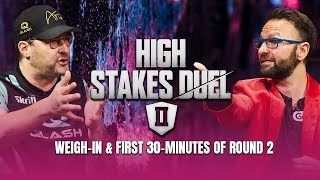 After a fold, Hellmuth picked up 9,000 to take a lead. The early stages saw Hellmuth catch several nice hands to build his lead. 
"Missed some draws so far, going to connect eventually," Kid Poker noted.
Things seemed to be going the 15-time World Series of Poker champion's way. Just after that statement, Negreanu raised with Ace-Queen and Hellmuth called with King-Jack.
A King and Jack hit the flop and Hellmuth slow played the hand all the way through. Hellmuth raked the pot but may have missed out on some extra chips. He found himself up about 26,000 chips by the first 20 minutes into the duel.
Negreanu scores full house over full house 
Meal time has become a major part of any televised Hellmuth appearance lately. After a Sour Patch snack, Hellmuth broke out a bag apparently with a meal inside, forking out a few bites.
His mid-match snacking drew plenty of laughs from Negreanu. With a full belly, he quickly got back to the action – snagging second pair and taking another pot.
Hellmuth just seemed to be catching hand after hand, but Negreanu soon found a nice pot of his own. Both players saw a flop of Q♠8♦4♥ and Negreanu fired 1,200 with Q♣J♦.
With 8♠6♣, Hellmuth immediately made it 3,700 with middle pair. After a call from Negreanu, the turn brought quite an interesting Q♦. Both players checked.
The 8♣ on the river made things even more interesting – giving both players a full house. Negreanu bet 6,600 and Hellmuth simply called.
The 22,400-chip pot erased much of Negreanu's deficit. Hellmuth led by 14,000 just short of the hour mark.
Negreanu followed that up with a nice call holding King-Two with a deuce on board to Hellmuth's Ace-high. A few hands later, Negreanu's pocket Jacks turned into a set on the flop with Hellmuth catching two pairs on the river with 6♥4♥.
With a board of 6♦10♣3♣J♥4♦, Negreanu clicked back with another 15,000 – swelling the pot to 81,400. That brought a few curses from Hellmuth.
After some tanking, Hellmuth called and Negreanu fought back to a 3-to-1 chip advantage with the 96,000-chip pot.
Poker Brat turns pesky to rally
Already with one comeback under his belt against Negreanu, Hellmuth needed another one. He scratched and clawed to accumulate chips.
At about the 90-minute mark, he took down a small pot with a rivered straight to Negreanu's top pair. He checked to set a trap, however, with his opponent checking behind.
Again, Hellmuth may have missed out on a few more chips. He then broke out a bag of cashews to munch on, giving new meaning to the "nuts" in poker.
He continued raking some pots, mixing in an occasional bluff. As commentator Nick Schulman noted, "Phil is pesky."
That peskiness had him gain traction, but a pot near the two-hour mark hurt. Hellmuth caught top pair with his King-Eight and Negreanu middle pair with Queen-Eight.
However both players checked the flop and turn. A Queen then landed on the river, giving Negreanu three of a kind. Hellmuth bet 1,800 with Negreanu calling to win 6,600.
Negreanu then seemed to take the big pots with his opponent taking the smaller ones. Toward the midpoint of the match, once hand stood out and seemed to spur Hellmuth back into the match.
After a Negreanu raise to 1,500 with Q♣8♦, Hellmuth called with K♠2♠. Both players checked with a flop of 3♦6♣8♣ and saw the 3♠ on the turn. Hellmuth bet 700 and Negreanu called.
The 10♣ fell on the river and Hellmuth made a hefty 3,200 bet. Negreanu went into the tank with numerous possibilities on the board. He used a time extension as Hellmuth stayed quiet.
"This would be very easy in normal circumstances, but this is Phil Hellmuth," Negreanu said.
He eventually folded and Hellmuth raked the pot. Later, Hellmuth hit two pairs on the river to beat Negreanu's Ace-King with an Ace on the turn.
The Poker Brat found pocket Aces the next hand, but ultimately folded after a big raise on the river by Negreanu. The big moves continued throughout the match.
THE BEST SOCIAL POKER ROOM IN AMERICA
1
Free $20 Gold Coin Offer
With a Verified Account, PLUS
get as $40 Gold Coin Offer for $20
US Players Accepted
Daily FREE Sweeps Coins Just For Logging In
Texas Hold'em Ring Games, Tourneys, and SNGs
Chance to Win Cash Prizes
Hellmuth surges late, but lead swings back to Kid Poker
By the three-hour mark, Hellmuth moved ahead. He landed some key hands and took advantage of a few of his opponent's bluffs.
Another hand saw Hellmuth pick up pocket Aces for the fourth time in the match. Along with some nice hands, Hellmuth also played well.
That lead wasn't secure, however, and the lead swung back and forth a bit. But Hellmuth stayed tenacious, mixing in some big moves.
A huge hand developed just before the fourth hour that saw Negreanu land quad Fours to Hellmuth's full house. Hellmuth held pocket Deuces with three Fours hitting the flop.
Hellmuth eventually folded on the river, but his opponent raked a big pot. Negreanu held a nice lead again while his opponent was muttering and cursing.
ZOOM ZOOM! In tonight's match on @PokerGo App (can watch anytime), folks were shocked to see me bluff over-and-over-and-over. @realkidpoker played so well I had to play on GUTS & HEART. FYI – I coined the term "Zoom Zoom Poker" (playing FAST) after this: https://t.co/3NIB0q6XKS

— phil_hellmuth (@phil_hellmuth) May 6, 2021
Despite that, Hellmuth leveled the chip stacks after about four and a half hours. The event featured plenty of lead changes, which continued down the stretch.
In the end, the stacks were deep late in the match with Helmuth up about 25,000 close to the five-hour mark. It seemed as if it would take one or two massive hands to end the match.
That's just what happened. Hellmuth raised to 14,000 with 10♦2♦ and Negreanu called with 9♦7♦. The flop brought 6♦K♠6♠ and Hellmuth continued with 13,000.
Negreanu called and the turn brought the 8♦, creating flush possibilities for both. Negreanu also picked up an open-end straight draw. Hellmuth again bet out with 28,000.
After thinking a bit, Negreanu called and the river brought a 9♠. Hellmuth immediately announced all in. That brought a quick fold from Negreanu.
Hellmuth's bluff brought a huge pot and a chip stack of 141,500. The final hand saw Negreanu pick up 8♠8♣ and raise to 4,000. After checking out Negreanu's stack, Hellmuth shoved with A♥4♣.
"I think it would be pretty outrageously foolish of me to fold this hand," Kid Poker said.
Indeed, he called with 107,00 chips on the line. The flop then brought J♥9♥9♣. A Jack or an Ace and the match was over. The 6♥ on the turn then gave Hellmuth flush possibilities as well.
The K♥ on the river gave him the flush and Hellmuth won his fifth straight High Stakes Duel. He scored another $100,000 in the process.
"Good job buddy," Negreanu said while shaking his opponent's hand. "You played well."
Inside Hellmuth-Negreanu II
These two players bring plenty of fun to the table. Viewers were treated to Hellmuth rants, Negreanu jokes, and plenty of great poker.
However, the banter between the two seemed to stall out a bit at the end as if both players were frustrated at times.
Overall, PokerGO put on a nice show again. Hellmuth hasn't received much credit going into these events. But his experience playing in live heads-up, tournament-style matches certainly comes through.
On Thursday, Negreanu faced some social media shade but seemed to take it in stride.
Bring on the haterade I'm thirsty!

Sometimes you win, sometimes you lose. Such is life.

Acting like a classless asshole to the guy who just lost is optional.

Respect to @phil_hellmuth he has his tirades when losing, but is a classy winner. pic.twitter.com/XQxXoiUvs8

— Daniel Negreanu (@RealKidPoker) May 6, 2021
Five wins in a row isn't easy and he's shown an ability to finish off opponents who were in trouble. Some of his bluffs really paid off as well on Wednesday.
 Even Negreanu noted that he seemed to play better than in the first match. Not deterred, he seems ready to get back to the action.
Making his exit, Negreanu told Hellmuth: "We'll have to see you in round three."
The next match will have both players putting up $100,000 each. With another win, Hellmuth will be looking for a High Stakes Duel six-pack. Maybe the next match's food spread might include an actual six-pack of beer complementing those Sour Patch Kids.
* Photos courtesy PokerGO