General
Hellmuth Completes Trifecta of Wins Over Negreanu On 'High Stakes Duel'
It's $400,000 and out for Phil Hellmuth. The Poker Brat notched his sixth straight High Stakes Duel win on Wednesday in Las Vegas, and third in a row against Daniel Negreanu.
Many in the poker world didn't give Hellmuth much of a chance against Negreanu going into the PokerGO series initially. The huge run of heads-up matches offers the 15-time World Series of Poker bracelet winner a bit of vindication.
"There's just something weird about heads-up where I think a lot of the guys are just pure math guys and think they've figured it out," he told PokerGO afterward. "And they have figured it out on the Internet, but they haven't figured it out in the real world.
"So, there is some stuff that I've been working on for a long time. I will discuss heads-up No Limit Hold'em strategy with zero people. I don't talk about it with anybody because I think there are a few things I do that everybody thinks that are wrong that I'll just continue to do."
Hellmuth now heads to the exit door rather than take on another opponent after an impressive run of success.
The Best Social Poker Room in the USA
1
GET 150,000
GOLD COINS for $10
PLUS 30 FREE Sweeps Coins

Most US Players Accepted

Get Over 65% Off Your First Purchase
Daily Free GC and SC on Log In

Use Promo Code: FLUSH
Negreanu dominates early
Both players began with 200,000 chips with 30-minute levels. Hellmuth got a few product endorsements out of the way early and there was some good back and forth banter.
Negreanu even repped a brand himself – noting that GGPoker recently became the global cash game leader. He got out to an early lead, with Hellmuth muttering to himself, standing up, and walking away from the table a few times.
By the first half-hour, Negreanu had a lead of about 40,000 and the day began looking like the first match. He got out to a big lead early in that one as well.
"I came to win today, so you can do all the bluffing and all that kind of bullshit," Hellmuth said. "I just like winning. I just want to make some great laydowns, make some great calls, and trap you like 25 times."
The first Hellmuth snack attack came at the 38-minute mark. The Poker Brat broke out a sandwich for some table-side nourishment. After dropping another pot with 3-3, Hellmuth again expressed some frustration.
"You're going nuts and I haven't written you a speeding ticket yet," he said. "The speeding ticket's going to be hefty though."
Considering his chip stack, up 60,000 at the time, Negreanu replied: "The good news is we can afford it."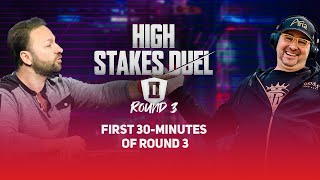 Huge hand vaults Hellmuth ahead
Just past the hour mark, the two players tangled in a raise-fest. Hellmuth three bet with 8♣3♣, which brought a four-bet from Negreanu with 2♦2♣. Undeterred, Hellmuth reached into his bag of tricks for a five-bet.
Negreanu called, swelling the pot to 70,000 before the flop, which brought 10♦6♠J♣. Hellmuth checked and Negreanu bet 21,000 and received a call.
The turn brought the 6♣ and Hellmuth bet 42,000. Negreanu went into the tank, using a time extension before ultimately folding.
The massive bluff moved Hellmuth into the lead after raking 154,000 chips. That gave him almost 218,000 chips to Negreanu's 182,000.
Hellmuth's penchant for tightness seemed to pay off. After getting run over much of the match, the hand brought a real reversal of fortune.
Shortly afterward, Hellmuth picked up another pot with top pair versus Negreanu's middle pair. That lead didn't last long and Negreanu soon reclaimed the chip lead.
The two battled back and forth through the second hour. An ill-timed Hellmuth bluff at about the 90-minute mark sent Negreanu a nice pot. Kid Poker's Q♥2♥ hit a third Deuce on the turn.
"He knows I'm on fire," Hellmuth muttered. "It's not like he's just going to run me over. No one's ever run me over."
Pep talk time
The next hand saw Hellmuth raise with Q♥10♥ and Negreanu come along with 10♦9♦. The flop of Q♦3♦K♦ brought Negreanu a flush and he bet 2,000 after a Hellmuth check.
That got a call and the turn produced the 9♥. Negreanu bet 6,000 and Hellmuth called again for 24,000 in the pot.
The 6♣ fell on the river and Negreanu bet 32,000, which brought a fairly quick fold. Hellmuth paced the PokerGO Studio again with another self-assuring pep talk. Negreanu later did his own imitation of those motivational speeches.
"Alright, you know you'll get him, just keep grinding him down," he told himself after Hellmuth won a pot. "Just keep grinding him down, don't fall for his traps. Everything's going to be okay."
That brought a big chuckle from Negreanu and there was plenty of humorous conversation throughout. Shortly after the pep talk, Negreanu picked up pocket Queens to take a 30,000-chip pot.
Massive pot for the Poker Brat
At about the two-hour mark with blinds at 500/1,000, Negreanu raised to 2,500 from the button with 9♠9♣. Hellmuth three-bet to 11,000 with Q♥3♥. After a call, both players saw they saw a flop of 3♣3♠2♠.
Hellmuth checked and Negreanu bet 7,000 with his opponent then raising to 25,000. Negreanu called and the turn brought the 5♣. Hellmuth checked and Negreanu put out 35,000.
That brought a quick all in from Hellmuth for the last of his 126,000. Negreanu used a time extension before finally calling. The river brought 10♥ and Hellmuth raked 325,000 for a massive swing.
He later added a 47,000-chip pot after Negreanu hit the wheel straight. But Hellmuth's 6-7 hit an even bigger straight. Negreanu's chip stack sank to about 51,000.
However, Kid Poker began to build up again. By the beginning of the fourth hour, he'd built his stack back up to more than 100,000. He continued to hang around and stretch the match out.
The Best Social Poker Room in the USA
1
GET 150,000
GOLD COINS for $10
PLUS 30 FREE Sweeps Coins

Most US Players Accepted

Get Over 65% Off Your First Purchase
Daily Free GC and SC on Log In

Use Promo Code: FLUSH
Kings over Kings; cooler closes it out
Just past the fourth hour a big hand developed to get Negreanu back in the duel. Hellmuth picked up K♣K♠ to Negreanu's K♥K♦.
Hellmuth made it 8,000 from the button and that was then raised to 23,000. He then announced all in and Negreanu of course called.
Only a cooler could avoid a split pot. That's just what happened as the flop brought 10♦A♦2♦ followed by a 9♥ on the turn.
But an 8♦ on the river gave Negreanu a flush and put the match almost back to even.
By the fifth hour, Hellmuth again held a lead. Up about 60,000, he continued to snag pots here and there. But some key all-in moves brought Hellmuth folds, even moving Negreanu ahead at times.
Late in the match, however, Hellmuth had a small lead when another cooler developed. Negreanu called with 5♠6♠ and Hellmuth checked from the big blind with 10♦6♦.
The flop brought 2♦7♠9♦ and Hellmuth checked before calling Negreanu's bet of 6,000. The turn brought a crucial card – the 8♥.
That gave Negreanu a 9-high straight, but his opponent scored a 10-high straight. Negreanu bet 12,000 and Hellmuth thought 30 seconds before raising to 30,000. Negreanu then moved all in and Hellmuth called.
The river brought the 3♠ and the match once again was Hellmuth's. The massive cooler closed out a fun battle between two Poker Hall of Famers.
Analyzing the action
While his bravado and whining earns plenty of criticism, Hellmuth again showed why he's a great player. He obviously has a knack for these heads-up battles.
Negreanu ran well through the first hour, but also found ways to siphon chips away from the Poker Brat. He bet large on the river, often putting Hellmuth to the test. Some sizable pre-flop raising out of position also paid off.
Hellmuth again utilized some huge bluffs as in the second match. But Negreanu seemed more ready to "slap that hand a little bit," as he noted.
But the "randomness factor," as commentator Maria Ho termed it, just seemed to pay off for Hellmuth. Putting him on these massive bluffs seemed difficult considering his normal playing style.
Both players complimented each other after the event for some friendly sportsmanship. High Stakes Duel again produced some great poker entertainment from two of the biggest personalities in poker.