General
Poker World Earns Full Hollywood Treatment This Week With Release of 'The Card Counter'
With high stakes, intrigue, and interesting characters, Hollywood regularly revisits poker as a backdrop for films. This week, The Card Counter adds its name to the mix with the game again playing a major role.
Beyond the action at the tables, which also includes some Blackjack card counting, the World Series of Poker brand is also part of the film. While betting and bluffing may not be the focus, the WSOP Circuit is a heavy part of writer and director Paul Schrader's latest. He recently spoke with USPoker about the film and his own experience with poker and gambling.
GLOBAL POKER ACCEPTS US PLAYERS
1
FREE $20 GOLD COIN PACKAGE
With a Verified Account. PLUS get a $40 Gold Coin Package for $20 on purchase
US Players Accepted
Daily FREE Sweeps Coins Just For Logging In
Texas Hold'em Ring Games, Tourneys, and SNGs
Redeemable For Cash Prizes
Poker returns to the silver screen
In The Card Counter, Oscar Isaac plays the role of William Tell. He travels from casino to casino counting cards at the Blackjack tables and playing poker as well.
Tell is a former special operations soldier who served time in prison for crimes he committed in Iraq. Those crimes eat away at him and he continually seeks some kind of solace.
Poker and card counting simply become routine, a way to pass time and almost punish himself more. Tell then finds a semblance of happiness in the form of a surrogate family via his backer La Linda (Tiffany Haddish) and the teenager Cirk (Tye Sheridan).
Cirk is searching for meaning after his soldier father's suicide and Tell takes him under his wing. Willem Dafoe also plays Major John Gordo, who led the black ops program for which Tell served prison time.
Card Counter is executive produced by Martin Scorsese, who also collaborated with Schrader on Taxi Driver. Poker fans will find a film that puts the tournament grind center stage. However, redemption plays a central theme as Tell looks for some way to assuage his own guilt.
Tackling the poker world as a setting
Schrader should be no stranger to cinema fans. He's the screenwriter behind classics like Taxi Driver, Raging Bull, and numerous others. He's also directed numerous films as well and takes up both roles with his latest movie.
Like other Schrader films, The Card Counter focuses on a man behind a veil. He's there but not really there. Tell may be a poker player, but this occupation simply hides his place in life.
What attracted Schrader to poker and casino gambling as a way to tell his story?
"The metaphor of it all and the fact that people don't think of gamblers in this way," He says. "Going all the way back to Taxi Driver. People always think of taxi drivers as garrulous and friendly and talkative, a character actor.
"I looked at them, and I saw instead a deep black hole that was done to them. You had a person locked in a yellow box for 60 hours a week festering. And so you could take a mataphor and bend it to another purpose. Just like there are no taxi drivers like Travis Bickle, there are no poker players like William Tell. He is a construct."
A backdrop for cinematic action
The goal was to make the poker scenes realistic and poker player, comedian, and commentator Joe Stapleton served as a consultant. Schrader saw the world of poker offering some interesting dynamics.
"I look at these guys playing poker playing 10 or 12 hours a day like people sitting in front of a slot machine," he says. "And they're running the numbers, running the numbers, waiting for that hand where two players think they can win and they're both well financed, and bam – the game comes to life. It may have taken two or three hours to get there.
"That kind of fascinated me, this sort of half-life, this kind of purgatory. It's a pretty numbing occupation. It can be very pleasurable, but there's a certain numbness in it and that's what I was looking for."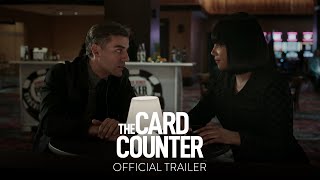 William Tell doens't feel he's been punished enough and his mundane poker and casino existence becomes part of that. 
"That's kind of a non-life," Schrader says, "going from mid-level casino to mid-level casino."
The writer/director avoids too much research before launching into this kind of character analysis. To Schrader, the occupation is secondary and used as a tool to convey the real story.
"I don't want a poker player to look at the screen and say, 'Hey, that's my life,'" he says. "No it's not your life, I made it up. Your life is not like that at all. That's just what I regard as the poker of occupational metaphor."
GLOBAL POKER ACCEPTS US PLAYERS
1
FREE $20 GOLD COIN PACKAGE
With a Verified Account. PLUS get a $40 Gold Coin Package for $20 on purchase
US Players Accepted
Daily FREE Sweeps Coins Just For Logging In
Texas Hold'em Ring Games, Tourneys, and SNGs
Redeemable For Cash Prizes
Schrader's own poker life
While poker may serve to develop characters, Shrader has some experience playing. He enjoyed heading to Gardena's famous poker clubs when he lived in Los Angeles.
"I enjoyed that a lot and then I started going to Vegas, where I started running up the costs," he says. "I was sitting at a table and said, 'If I could take everything, take my house, I'd put it on the spot right now.'
"And then I thought, 'Wait, you don't want to take those kinds of chances in your life. If the only thing that gives you adrenaline is to lose everything, maybe you should reconsider your love of poker because that's a monster that can only be fed by losing.'"
Schrader didn't give up the game, but decided not to play in casinos. However, smaller casinos away from the bright lights of Las Vegas served as filming locations for Card Counter.
"We were essentially on the Redneck Riviera, which is the strip from the Gulf Coast to Pensacola (Florida)," he says. "Since all casinos everywhere look the same, the big problem isn't making a casino look real. The big problem is making a casino look interesting.
"We were mostly at the Imperial Palace in Biloxi and then we branched out from there. The casino people were very nice to us."
Stapleton helped producers secure approval to use WSOP logos in the film. Beyond poker, Schrader enjoyed hitting the roulette tables when he did play in a casino. His reasoning seems fitting for deep-thinking screenwriter and director.
"I like the multitude of variables," he says. "Whether you're playing one spot, two , four, six, eight, different colors. I like mixing it up."
The Card Counter from Focus Films debuts Sept. 10 at theaters around the country.