General
PokerGO Tour Roundup: Daniel Negreanu Wins PG Cup Event; Kornuth, Petrangelo Score Big Stairway to Millions 
The high stakes action continues this week in Las Vegas with the PokerGO Cup and Daniel Negreanu became the latest winner on Tuesday.
He scored a win in Event 6: $25,000 No Limit Hold'em for $350,000. The win came after some struggles in earlier events and he credited an unlikely source for the turnaround.
"I'm not going to lie, I actually genuinely have to thank (PokerGO commentator) Jeff Platt because after the tournament, Event 5, I was so frustrated that I was building chip stacks and dominating the early levels but didn't have a single cash to show for it, so I was just done," the GGPoker ambassador said afterward.
"I didn't know if I could take it anymore. I'm in the gym and Jeff texts me and says, 'You know if you win one of these ($25Ks) and the $50K that you can still win the PokerGO Cup.' In my head, I was like, 'So, you're saying there's a chance?' As soon as I heard that, I thought, 'All right, let's do this. Let's give it one more shot,' and I did. It was a very different Event 6 than the first five. I had no chips and I had to rebuy, the whole deal. But who knows, the poker gods are weird."
The Best Social Poker Room in the USA
1
GET 150,000
GOLD COINS for $10
PLUS 30 FREE Sweeps Coins

Most US Players Accepted

Get Over 65% Off Your First Purchase
Daily Free GC and SC on Log In

Use Promo Code: FLUSH
Battling back for the win
The event produced 35 entries for an $875,000 prize pool with Sean Winter taking runner-up for $227,500. The pep talk from Platt apparently did the trick for Negreanu. He entered the final table on the short stack but turned things around on his way to victory.
"It feels really good," Negreanu said. "People who play tournament poker get this, especially live. You go through periods where you just feel like the poker gods are spitting on you, because they'll beat you in hands in such ways, like on the river, where it's the most emotional – and I'm an emotional guy, I don't hide it very well.
"So it's been a rough couple of years in terms of all-ins. But in these all-ins? I did great. I won with Ace-Eight, which was key, and you've got to do that sometimes. You see all the great players and think they're all fantastic, but they also occasionally have to hit a three-outer in order to win."
Beyond the Negreanu win, several other big names have scored titles through six events. Below is a look at some of the action so far as well as January's Stairway to Millions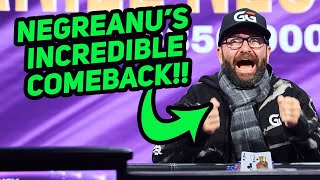 Event 5: $25,000 NLHE
Nick Petrangelo is certainly on a heater. He topped a field of 41 for this title and a score of $369,000. Since September, he's won almost $5 million.
That's included two scores of more than $1 million, five wins, and reaching heads-up play nine times. Two of those came at the PokerGO Stairway to Millions in January (see below)
"Everything has been going really well since even September," Petrangelo said. "A little up and down, but yeah, since then pretty much everything has been working out. I'm running great, winning all-ins, and getting hands at the right times.
"Sometimes you get around the bubble when you have a lot of chips and you lose a couple of hands, but it's been the opposite for me when I go deep and everything just goes well."
Bill Klein finished runner-up for $246,000 and Nick Schulman took third for $164,000. The event produced a prize pool of just over $1 million.
Event 4: $15,000 NLHE
A huge three-way hand helped propel Jeremy Ausmus to the final table chip lead in this event. At about 30 minutes into play, he was all in with pocket 10s against pocket Aces for Jesse Lonis and pocket Jacks for Justin Saliba.
Ausmus tripled up when a 10 hit the board, which sent Lonis to the rail. Ausmus eventually topped Brock Wilson heads-up for the title and scored $263,250.
Wilson won $195,000 for runner-up with Katz taking third for $126,750. The event brought in 65 players for a $975,000 prize pool.
Event 3: $10,000 NLHE
Jake Daniels pocketed $200,000 after coming out on top of a field of 80 entries. He rallied from entering the final table fourth out of six in chips. He credits the win with some recent strategy sessions that seem to have paid off.
"I've hired a couple of coaches and I've put in a ton of work in the last five or six months trying to get better because these guys are so stinking good," Daniels said after the event, which produced an $800,000 prize pool.
"I had a nice deep run in Florida for a WPT a couple of weeks ago, made a final table there. I love the competition."
The big run in this event included eliminating every other player at the final table. Ausmus finished runner-up for $144,000 before going on to his own win just a few days later.
Event #2: $10,000 NLHE
This event brought in 80 entries and an $800,000 prize pool. Sean Perry continued running well, taking the top spot for a $200,000 payday.
Perry has been one of the most successful players in the world over the last few years. That included finishing third in the 2021 PokerGO Tour Player of the Year race.
Earning the title wasn't easy with Katz taking runner-up for $144,000 and Bryn Kenney third for $96,000.
"We were definitely gambling, but this tournament is even more exciting," Perry said. "I was at three big blinds early on and I was telling everyone that I would make the money. Then I made the money.
"Even at the final table, I was down to two big blinds and somehow came back and won. That's always nice. Bryn Kenney was giving action, I was giving action, it was a lot of fun. I just ran well. We were playing the nine-four off game. In a $100,000 event, I bluffed it all off to Nick Petrangelo with nine-four off, so that's why we were doing it, and it was a good time."
Event 1: $10,000 NLHE
The series kicked off with Daniel Colpoys finding the winner's circle for $200,200, his first tournament win since 2014. He topped a field of 77 entries, which produced a prize pool of $770,000.
Colpoys hasn't played much live poker in recent years and the pandemic left him out of the game for a time. However, he's now starting to get back into the action – with nice results so far.
Andrew Lichtenberger took the runner-up spot for $146,300 with BetMGM/partypoker US Network ambassador Darren Elias scoring third for $100,100. There were two events on the PokerGO Cup schedule set to wrap up as of Wednesday.
The Best Social Poker Room in the USA
1
GET 150,000
GOLD COINS for $10
PLUS 30 FREE Sweeps Coins

Most US Players Accepted

Get Over 65% Off Your First Purchase
Daily Free GC and SC on Log In

Use Promo Code: FLUSH
Chance Kornuth, Nick Petrangelo score big in Stairway to Millions
In January, PokerGO also ran a new series called the Stairway to Millions. The festival featured eight tournaments with buy-ins ranging from $1,100 to $102,000.
The format allowed players reaching the money at a certain level to automatically gain entry into the next level. The opening event featured a $1,100 buy-in, making it possible for a player to turn that into a $1 million prize at the end of the series.
Two players came out as double winners in the series – Chance Kornuth and Nick Petraneglo. Kornuth scored back-to-back titles in the second and third events for a total of $132,240.
That came after cashing in the first event to earn entry into the second event and then earning another entry in Event 3 from there. It was a nice run that began with a $1,100 buy-in.
Petraneglo scored big later in the series, winning the final two events for a total of $1.6 million. Here's a look at all the winners from the series:
2022 PokerGO Stairway to Millions
| Event | Tournament | Winner | Payout |
| --- | --- | --- | --- |
| 1 | $1,000 NLHE | Daniel Sepiol | $28,500 |
| 2 | $2,000 NLHE | Chance Kornuth | $51,600 |
| 3 | $4,000 NLHE | Chance Kornuth | $80,640 |
| 4 | $8,000 NLHE | Salim Admon | $138,880 |
| 5 | $15,000 NLHE | Michael Wang | $219,300 |
| 6 | $25,000 NLHE | Jake Schindler | $287,500 |
| 7 | $50,000 NLHE | Nick Petrangelo | $567,000 |