General
Preview: Tom Dwan Looks for Another Win Over Phil Hellmuth in PokerGO 'High Stakes Duel'
The High Stakes Duel action returns to PokerGO on Wednesday night with Tom Dwan looking for a second-straight win over Phil Hellmuth.
The Poker Brat dominated the show before Dwan handed him his first loss in the series last August. The two now square off again with $400,000 on the line. Plenty of poker fans will be checking out the high-stakes showdown.
THE BEST SOCIAL POKER ROOM IN AMERICA
1
GET 150,000 
GOLD COINS FOR $10
PLUS 30 FREE Sweeps Coins

US Players Accepted
Get Over 65% Off Your First Purchase
Daily FREE Coins Just For Logging In
Use Promo Code: FLUSH
History of the series
Many in the poker world didn't initially give Hellmuth much of a shot in two three-match series with Antonio Esfandiari and Daniel Negreanu. But his heads-up skills proved top-notch and Hellmuth won six straight matches.
Hellmuth's big bluffs and super-aggression may have been unexpected, but certainly were effective. Negreanu and Esfandiari seemed at times to have difficulty figuring out exactly what line Hellmuth was taking. Was he betting with air or this time did he have the goods? There seemed to be no easy answers.
A seventh match in the series also saw Hellmuth dispatch FOX Sports host Nick Wright in late July. He declined a rematch and Dwan stepped in to challenge Hellmuth instead.
Dwan brought Hellmuth's massive run to an end. After Hellmuth found an early lead in the match, Dawn began finding some breathing room. He hit some big hands and Hellmuth missed on some draws.
Dawn seemed to take Hellmuth's frustrations in stride. He mixed up his game from aggressive to passive and just seemed to have Hellmuth's number. He also wasn't afraid to use some all-in shoves to get Hellmuth off a hand – and off his game. Here's a look at the matchup details.
Date: Jan. 26
Location: Las Vegas, PokerGO Studio
Time: 8 pm (ET)
Network: PokerGO
Stakes: $400,000 ($200,000 each) 
Hellmuth series record: 7-1
Dwan series record: 1-0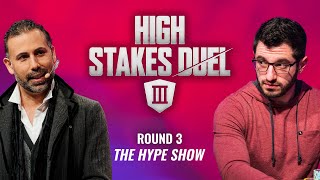 What to expect from the matchup
No doubt Hellmuth will be adjusting his game when returning to the action. Dawn is a tough customer and seemed to feed off Hellmuth's frustrations.
Hellmuth also admits that his ego went a bit unchecked after so much success on the show. Changing that may be easier said than done for the 16-time World Series of Poker champion.
"Gotta stay in the present or I risk flaring up my ego: not just words," he noted on Twitter. "Praise and ego are corrosive. I was flying too high ego-wise until Dwan beat me. A friend pointed out my ego was too high. That hurt!"
Dawn hasn't commented on the matchup so far, but should be ready. It will be interesting to see how he adjusts his own game. Even Hellmuth himself admitted after the first event that Dwan presented a unique challenge.
"Tom is just a great player," Hellmuth said. "He does weird things, he's very interesting. He might call off half his stack with seven-eight suited and get there."
The longtime poker pro seemed to adapt easily in the first match. Hellmuth didn't have as much room to maneuver as Dwan fought back with all in moves and sizable raises. Dawn also showed some big folding skills, denying Hellmuth of more chips.
​​"I think I adjust how I play more than most people do depending on what other people are doing in the game," Dwan said after the first match. "So I definitely made some unconventional plays there. Some I think were good, some I think were bad."
Those looking for lots of banter back and forth as seen in Hellmuth's earlier matches may be a bit disappointed. Dawn talks, but isn't quite as chatty as Esfandiari, Negreanu, and Wright. But those interested in some great heads-up poker should definitely tune in.