General
Chip Chatter: WSOP-CBS, WPT Bidding War, PokerStars Judgement, Negreanu-Hellmuth II, Mike Postle Lawsuit Fizzles, & More
There has been plenty of poker news lately, both in the live game and online world. That runs from the World Series of Poker and World Poker Tour to jurisprudence and major industry moves.
Regulated US online poker also saw a major final table this week featuring plenty of big names. Once again, Chip Chatter brings you plenty of headlines from the poker world.
THE BEST SOCIAL POKER ROOM IN AMERICA
1
Free $20 Gold Coin Offer
With a Verified Account, PLUS
get as $40 Gold Coin Offer for $20
US Players Accepted
Daily FREE Sweeps Coins Just For Logging In
Texas Hold'em Ring Games, Tourneys, and SNGs
Chance to Win Cash Prizes
New WSOP deal with CBS presents some interesting speculation
Poker fans awoke on Monday to the news that the WSOP is moving to CBS Sports Network this year. The series has been shortened and moved to the fall this year.
Certainly moving to CBS Net has its drawbacks. Fewer households receive the network, about 25 million to be exact. The network also doesn't have as much prestige as ESPN.
However, there may be some interesting things to watch. The network already carries PokerGO events and this adds even more poker. Could CBS be trying to attract more poker fans all in one spot? Also, is it possible the WSOP could stand out a little more without being crowded by the NFL, MLB, NBA, and soon the NHL?
Also, how much will CBS promote the series? That remains to be seen, but some ramped-up marketing efforts could help the product. The network also promises significant streaming on its Paramount+ service.
Along with PokerGO that means even more live poker for fans. It will be interesting to see how things play out.
Kentucky Supreme Court rules against PokerStars
Flutter Entertainment, parent company of PokerStars and FanDuel, may be facing a $1.3 billion judgement in Kentucky. The state's Supreme Court affirmed the judgement in March after its initial ruling in December.
"The case stems from PokerStars' illegal operations in the US prior to 2011, long before Flutter acquired the company," Online Poker Report notes.
"Kentucky sued PokerStars for illegally collecting wagers from online poker players. The state is known for the Kentucky Derby, which generates hundreds of millions in bets annually. Yet Kentucky has been slow to adopt more modern forms of gambling, including online poker."
The state has apparently begun efforts to collect the first $100 million from the judgement. Stars posted that amount in bonds in 2015 to begin the appeals process.
Flutter disagrees with the size of the award and is considering its legal options including an appeal to the US Supreme Court.
WSOP.com High Roller final table features huge names including Negreanu, Schulman, Dunst 
The Spring Online Super Circuit Series is underway at WSOP.com and one event attracted a big final table on Tuesday night. The $2,000 Super High Roller Six-Max came with a $150,000 guarantee and plenty of big names looking for a championship ring.
The event produced a field of 62 players with 35 rebuys for a $184,300 prize pool. Roland Israelashvili took the top spot and his seventh WSOP Circuit ring and Nick Schulman finished runner-up.
Other names scoring at the final table included Daniel Negreanu and WPT commentator Tony Dunst. A win for Negreanu would have meant a second circuit ring 15 years after winning his first.
Dunst has two WSOP bracelets, but it would have been his first championship ring. It would also have been the first Circuit championship for Schulman as well.
Ian Steinman and Martin Zamani also played at the final table. Steinman has one bracelet and looked for his fifth Circuit ring. He scored an online bracelet in last summer's WSOP Online in a $400 No Limit Hold'em Freezeout event for $110,557.
Zamani was seeking his second ring. Here's a look at the winnings for final six finishers:
1st – Roland "prngls12" Israelashvili, $44,785

2nd – Nick "cashusklay" Schulman, $33,911

3rd – Martin "BathroomLine" Zamani, $25,341

4th – Tony "Panoramic" Dunst, $18,983

5th – Ian "APokerJoker2" Steinman, $13,952

6th – Daniel "DNegs" Negreanu, $10,247
The Super Circuit continues through April 27. The site also has the Omaha Mania and Spring Online Championships series currently underway as well.
Mike Postle drops lawsuit, now faces his own suit 
The Mike Postle cheating allegations saga continues to take some twists and turns. Postle has been charged with cheating in Stones Gambling Hall's live streamed cash games.
The allegations came to light by poker pro Veronica Brill. His play was subsequently analyzed by many players including Joey Ingram and Doug Polk. He seemed to win in extremely unlikely situations, with numerous players saying he must have had "help."
Postle later filed a defamation suit against Brill and several others. He recently dropped that suit, but faces his own suit from some of those he accused, including Brill.
"Voluntarily backing out of the case won't save Postle from the anti-SLAPP motion filed against him," Online Poker Report noted. "In fact, it guarantees that he will lose it and be on the hook for the defendants' legal fees."
SLAPP stands for "strategic lawsuit against public participation." Anti-SLAPP laws are meant to defend victims of frivolous lawsuits meant to limit speech.
"These laws aim to discourage the filing of SLAPP suits and prevent them from imposing significant litigation costs and chilling protected speech," according to the Reporters Committee on Freedom of the Press. 
Brill now hopes to recover funds used to defend herself and hopefully the sordid affair fades from the poker world.
Mike voluntarily dropped the case against me and many others. Now he owes me my legal fees https://t.co/FgiHko57Vp

— Veronica Brill 2.2 (@Angry_Polak) April 2, 2021
WPT sale going forward with Element despite late proposal from Bally's
The World Poker Tour announced in January that the company was being sold to privately-held investment firm Element Partners. The company has been part of Allied Esports Entertainment, but Element would be purchasing the company for $78 million.
That didn't include the esports part of the company. However, shortly afterward Allied received a $100 million bid from Bally's Corp. Formerly Twin River Holdings, that company has become Bally's after purchasing the casino with the same name in Atlantic City.
Bally's owns several casinos across the country and has moved to expand rapidly. The company recently announced the purchase of the Tropicana in Las Vegas, its first property in the city.
The Bally's offer also included Allied's esports properties and the offer was increased to $105 million in March. Element ultimately matched that offer for the WPT alone and the Allied board accepted that. The deal is expected to conclude this month.
THE BEST SOCIAL POKER ROOM IN AMERICA
1
Free $20 Gold Coin Offer
With a Verified Account, PLUS
get as $40 Gold Coin Offer for $20
US Players Accepted
Daily FREE Sweeps Coins Just For Logging In
Texas Hold'em Ring Games, Tourneys, and SNGs
Chance to Win Cash Prizes
Hellmuth-Negreanu rematch coming soon
After staging a massive comeback against Daniel Negreanu in the High Stakes Duel at PokerGO, Phil Hellmuth will soon defend his title. The Poker Brat scored $100,000 in a matchup where not many in the poker community gave him a chance.
The two will now play for $200,000 in a rematch on May 5 at 8 pm (ET) on PokerGO. At one point in the first event, Negreanu had about 97,000 of the chips in play to Hellmuth's 3,000.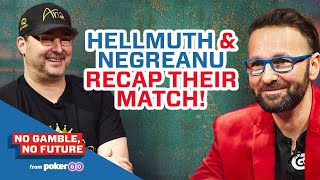 After rallying for the championship belt, Hellmuth now has four wins in a row in the series. That includes three straight victories over Antonio Esfandiari.
Hellmuth remained confident in his skills against Negreanu despite his detractors. That looks to be carrying over to the Cinco de Mayo rematch and he credits his short stack game for the comeback.
"I've had so much practice playing a short stack and waiting for good spots, I guess that's allowed me not really to panic," he said on the No Gamble No Future podcast. "I was fortunate to come away with a victory in the first match."
WSOP Classic episodes now available
In other news at PokerGO, the platform continues bringing poker fans more historic WSOP action. WSOP Classic now includes more than 1,200 hours from various events including WSOP Europe and Asian-Pacific.
The collection recently got even deeper by adding 17 episodes spanning from 1973 to 2010. The 2003-2005 episodes also include special commentary with champions Chris Moneymaker, Joe Hachem, and Greg Raymer.
The pre-2003 collection also includes 14 episodes many poker fans may not have seen before. Some of those include winners like Bobby Baldwin, Hal Flower, Stu Ungar, and Doyle Brunson.
The 1990s episodes feature Russ Hamilton winning the 1994 WSOP Main Event and receiving his weight in silver. Fans may also enjoy Scotty Nguyen's famous "You call, it's gonna be all over, baby," from during the last hand of the 1998 Main Event. The hand was featured in the film Rounders.