General
New Study Details Country's Favorite Gambling Movies; List Includes A Few Poker Films
What's America's favorite gambling movie? That's the question Potawatomi Casino hoped to answer recently and initiated a research project to find out.
The casino analyzed Google searches as well as conducted a survey to determine which gambling films are favored in all 50 states. Ocean's Eleven came in at the top spot. It was the most searched by number of states.
When considering nationwide searches, the sports betting film Uncut Gems, starring Adam Sandler, landed in the top spot.
"As a casino, we're always curious to see what gets players in the mood to play," Potawatomi researcher Collin Czarnecki told USPoker. "Whether it's finding a lucky number, or watching their favorite gambling movie, we love knowing what sparks inspiration before players hit the tables, slots, or video poker."
A couple of poker-related films scored well in the survey.
THE BEST SOCIAL POKER ROOM IN AMERICA
1
Free $20 Gold Coin Offer
With a Verified Account, PLUS
get as $40 Gold Coin Offer for $20
US Players Accepted
Daily FREE Sweeps Coins Just For Logging In
Texas Hold'em Ring Games, Tourneys, and SNGs
Chance to Win Cash Prizes
A look at the top casino films
Gambling, casinos, and poker are frequent sources of inspiration for Hollywood. As Ocean's Eleven celebrates 20 years since its release, the casino heist film remains popular among gambling fans.
The film starred George Clooney, Brad Pitt, Matt Damon, Don Cheadle, and Julia Roberts, and was a remake of the popular 1960 film. 
The story revolves around ex-con Danny Ocean's (Clooney) plan to steal hundreds of millions of dollars from the vaults at the Bellagio, Mirage, and MGM Grand casinos. The film scored well with moviegoers and critics, earning $450 million worldwide and inspired several sequels.
The 1960 film starred Rat Packers Frank Sinatra, Dean Martin, Sammy Davis Jr., Peter Lawford, and Angie Dickinson. The original was filmed at some classic Las Vegas casinos as well, including the Flamingo, Sands, Riviera, and Sahara. That film also received mixed reviews but was a major box office success.
Nationally, the 2019 film Uncut Gems scored in the top spot. The film tells the story of a New York City jeweler (Sandler) with a major sports betting addiction.
It's a decidedly different type of role for fans accustomed to seeing Sandler in more traditional comedies. However, he and the film impressed critics and Uncut Gems made many critics' top movie of the year lists. The film also apparently resonates among Americans.
Ocean's Eleven and the James Bond film Casino Royale finished just behind Uncut Gems for second and third in the nationwide survey. Here's a look at each state's favorites.
| | | | | |
| --- | --- | --- | --- | --- |
| ALABAMA: Molly's Game | HAWAII : The House | MASSACHUSETTS: Ocean's 11 | NEW MEXICO: Ocean's 11 | SOUTH DAKOTA : Ocean's 11 |
| ALASKA : The House | IDAHO: The House | MICHIGAN: Molly's Game | NEW YORK: Molly's Game | TENNESSEE: Molly's Game |
| ARIZONA: Molly's Game | ILLINOIS: Ocean's 11 | MINNESOTA: The House | NORTH CAROLINA: Ocean's 11 | TEXAS: Ocean's 11 |
| ARKANSAS: Molly's Game | INDIANA: Ocean's 11 | MISSISSIPPI: Ocean's 13 | NORTH DAKOTA: Ocean's 11 | UTAH: Molly's Game |
| CALIFORNIA: Ocean's 11 | IOWA: The House | MISSOURI: Molly's Game | OHIO: Ocean's 11 | VERMONT: Ocean's 11 1960 |
| COLORADO: Ocean's 11 | KANSAS : Ocean's 11 | MONTANA: Molly's Game | OKLAHOMA: Ocean's 11 | VIRGINIA: Ocean's 11 1960 |
| CONNECTICUT: Ocean's 11 | KENTUCKY: Molly's Game | NEBRASKA: Ocean's 11 | OREGON: Ocean's 11 1960 | WASHINGTON: Molly's Game |
| DELAWARE: Ocean's 11 | LOUISIANA: Ocean's 11 | NEVADA: Ocean's 11 1960 | PENNSYLVANIA: Molly's Game | WEST VIRGINIA: Molly's Game |
| FLORIDA: Ocean's 11 1960 | MAINE: Molly's Game | NEW HAMPSHIRE: Molly's Game | RHODE ISLAND: Ocean's 11 | WISCONSIN: The House |
| GEORGIA: Ocean's 11 | MARYLAND: Ocean's 11 | NEW JERSEY: Ocean's 11 | SOUTH CAROLINA: Molly's Game | WYOMING: Molly's Game |
Poker films get a nod
Many traditional poker fans may point to Rounders as the best in the poker film genre. But it was a more recent option that finished second among states.
The 2017 film, Molly's Game, starring Jessica Chastain, Idris Elba, and Kevin Costner, checked in as the most-searched in 16 states. The film is based on the true story of an Olympic-class skier Molly Bloom, who ran an exclusive high-stakes Hollywood poker game.
Bloom's best-selling book served as inspiration and both received positive reviews. As Bond fans might also know, Texas Hold'em plays a major role in Casino Royale as well.
The House, starring Will Ferrell and Amy Poehler, checked in at No. 3 by receiving the most searches in five states.  The 2017 comedy focuses on a married couple who open an underground casino in a friend's house to pay for their daughter's college.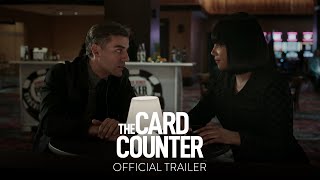 A new poker film debuts next week
Poker and gambling fans have another film on the horizon to check out. A new entry into the genre, The Card Counter, is set for release next week. The film stars Oscar Isaac, Tiffany Haddish, Tye Sheridan, and Willem Dafoe.
Martin Scorsese is an executive producer and Paul Schrader (Taxi Driver, Raging Bull) wrote and directed the film. Here's a look at Focus Features' description of the film:
"William Tell just wants to play cards. His spartan existence on the casino trail is shattered when he is approached by Cirk, a vulnerable and angry young man seeking help to execute his plan for revenge on a military colonel. Tell sees a chance at redemption through his relationship with Cirk. But keeping Cirk on the straight-and-narrow proves impossible, dragging Tell back into the darkness of his past."
Poker, blackjack, and casinos play a major role throughout. It remains to be seen if The Card Counter can resonate with fans like Ocean's Eleven, but plenty of poker fans will be interested.
The film hits theaters Sept. 10. Check back to USPoker next week for a complete feature including an interview with Schrader.