General
Daniel Negreanu Faced Potential Losing Year Before Winning Super High Roller Bowl Title, Reverses That With $3.3 Million Win
A rough year potentially loomed for Daniel Negreanu when PokerGO's Super High Roller Bowl kicked off last week. His worst losing year as poker pro was staring him right in the face.
By taking the title and a payday of $3.3 million, however, Negreanu completely turned his year around and recorded one of the biggest wins of his career. The victory came after Negreanu lamented some tough card run-outs over the last two years.
"I hate whining about bad luck, it's the worst, nobody wants to hear it," he told PokerGO's Jeff Platt afterward. "I've been feeling it, my wife when I come home, she feels what it's like – so frustrating. You feel like you're playing well but the results are not there.
"I felt super confident coming into this one, deepstack No Limit Hold'em, not all this all-in stuff. I'm petrified to go all in. I don't ever want to be all in in any state, but actually in this tournament I was never all in for my tournament life, which is a blessing."
The Best Social Poker Room in the USA
1
GET 150,000
GOLD COINS for $10
PLUS 30 FREE Sweeps Coins

Most US Players Accepted

Get Over 65% Off Your First Purchase
Daily Free GC and SC on Log In

Use Promo Code: FLUSH
Catching quads and running well
The tournament brought in 24 players for a $7.2 million prize pool and featured plenty of big names. Negreanu entered Day 3 second in chips at the final table of five.
For a player facing some tough luck, Negreanu started off the tournament with a massive hand. He looked to be in a bad spot with pocket 3s versus Bryn Kenny's pocket Aces.
Kenney hit a third Ace on the flop and then Negreanu landed a third 3 on the turn. But after a fourth 3 landed on the river, Negreanu sent Kenney packing after moving all in and getting a call.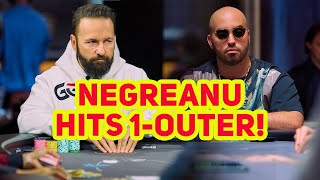 The win helped propel Negreanu to one of the largest stacks throughout the three days of action. He eventually found himself heads up with Nick Petrangelo With more than a 5-1 chip advantage.
After utilizing his big stack well, Negreanu eventually closed the show with his Q♣7♣ topping Petraneglo's K-5 with all the chips in the middle. A 7 on the flop gave Negreanu the title.
Petrangelo picked up just over $2 million for runner-up. Here's a look at the complete event payouts.
Daniel Negreanu – $3.2 million

Nick Petrangelo – $2 million

Andrew Lichtenberger – $1.2 million

Justin Bonomo – $720,000
Breaking through for a win
The championship came after several close calls for Negreanu in tournaments over the last few years. That included two third-place finishes this summer at the World Series of Poker.
Some other third-place and runner-up finishes also came his way in PokerGO events. The six-time WSOP champion and two-time World Poker Tour winner now has $49.6 in lifetime live tournament winnings.
He was pleased to break through with another nice bullet point on his poker record and also scoring the SHRB championship ring.
So @r3medies coming with the 🔥

Love this pic! Great work Antonio!

Thank you. pic.twitter.com/igKV9MHkn1

— Daniel Negreanu (@RealKidPoker) October 8, 2022
"I'll tell you what, heads up, I went through that crazy streak where I lost so many and I think I've won five straight heads-up matches in tournaments when I've gotten there," Negreanu told PokerGO "Obviously it feels great. The last two years have been really, really difficult mentally because I know my game is better than ever. But who cares? The public looks at it like, 'No, no, no, Daniel. You've got to look at your results. Your results are no good. You're playing bad.'
"I know how I'm losing. I've been doing this for 30 years. I know when it's me. I know when it's me making mistakes, and it isn't. I played a pretty close-to-flawless Super High Roller Bowl here and luckily the structure is so deep that it's not just a shove fest. If you play deep structures all the time, I'm going to be one of the favorites each and every time."
The Best Social Poker Room in the USA
1
GET 150,000
GOLD COINS for $10
PLUS 30 FREE Sweeps Coins

Most US Players Accepted

Get Over 65% Off Your First Purchase
Daily Free GC and SC on Log In

Use Promo Code: FLUSH
Turning things around
Scoring the SHRB title also made 2022 a much better year from a win/loss perspective for the GGPoker ambassador. Prior to the win, Negreanu was in the red about $1.6 million for 2022.
However, the first-place prize money moved him into the black for almost $1.7 million with three months remaining in the year.
Was on pace for my worst losing year ever but it will be a winning 2022 after yesterday

Buy ins: $2,866,564
Payouts: $4,544,086

Profit: $1,671,022

2013 +$1.96
2014 +$7.1
2015 +$950k
2016 -$1.2
2017 -$86k
2018 +$1.4
2019 +$831k
2021 +$584k

— Daniel Negreanu (@RealKidPoker) October 8, 2022
Plenty of poker fans also cashed in with the win. Negreanu sold action to more than 500 backers, who will now be scoring a piece of his seven-figure payday.
On Sunday, Negreanu outlined his top traits for those looking to be a successful poker player including:
confidence

self awareness

adaptability

pain tolerance

work ethic

resilience
No doubt he employed plenty of those over three days at the SHRB. The new SHRB champion specifically spoke with PokerGO about the importance of resilience and working on some new concepts for his game.
"Everybody goes through it," he said. "If you play poker for a living, you're going to go through streaks. I've been playing for 30 years. What good is it for me to tell you, 'I promise you, the last two years of all-ins is the worst I've ever seen.' And if you told me this, I'd say, 'You're just playing bad.' But I'm like, 'No, I'm really playing well.'
"I tested out some things at the Poker Masters and I put them into play there. I started out with some new material and found it really, really effective. People talk about No Limit Hold'em and solving it, there's an evolution still to be had – especially deep stack poker."
* Lead image courtesy PokerGO