General
WSOP RETRO: 7 Heroes from the World Series of Poker's Last 20 Years
Every story needs a hero and modern televised poker approaches the game in a narrative format. A storyline often develops as the action plays out at the tables.
ESPN regularly highlights some WSOP poker villains, and also highlights a poker Superman or Wonder Woman here and there. For many poker fans, it's those personalities that make for captivating TV.
PokerGO now offers a look at some classic ESPN World Series of Poker broadcasts as part of its WSOP Classic series. The WSOP Online at WSOP.com also wraps up on Friday.
In that spirit, here's a look at some poker heroes over the last 20 years.
Claim Your $10 For Joining WSOP NV Now
1
$50 Free On Deposit
100% up to $1,000 On Deposit

Use Our Code: GET10
Joe Cada
The winner of the 2009 Main Event seems to be able leap tall buildings and outrun speeding bullets. Or at least has those powers in a poker sense.
An online poker phenomenon even at an early age, Cada harnessed his powers to score in live poker as well. After doing the unimaginable in '09, winning the Main Event at age 21, plenty more WSOP heroics followed.
In 2014, Cada added another bracelet after winning a $10,000 No Limit Hold'em Six-Handed event for $670,041.
If that weren't enough, a truly Herculean effort came in 2018. Cada took down two events for more than $800,000.
But his strength would really be on display in the Main Event. Amazingly, Cada made another final table – finishing fifth for $2.2 million. He and fellow Main Event winner Ryan Riess remain atop the all-time money list for Michigan poker players.
When the Wolverine State gets online poker live, Cada might get some suitors for a sponsorship deal in the state. If Cada isn't Superman, then Iron Man might fit the bill.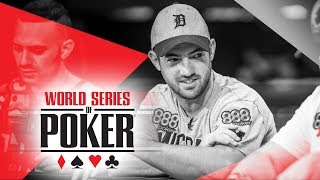 Daniel Negreanu
The smile, the chit-chat, the superhuman-like ability to read opponents and their cards. Despite some recent hot water in getting banned from Twitch, Negreanu remains one of the biggest names in poker.
And the cameras love him. A regular part of the WSOP televised action, Negreanu is the anti-Hellmuth. Both live for the WSOP each summer with Negreanu even producing slick vlogs on YouTube so fans can follow along.
Both are also loved for many of the same reasons – keen poker abilities and interesting personalities at the table.
In the last two decades, the Main Event has become massive. A big name making a huge run seems unlikely considering variance and field size.
Yet Negreanu almost did it – finishing 11th in 2015 for $526,778. He may be Kid Poker, but plenty of fans see him as Captain America … Canada.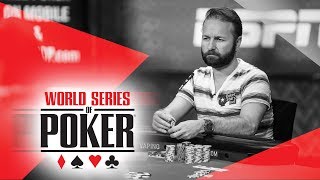 Scott Blumstein
If he's not Superman, then the 2017 Main Event champion would make for a nice Clark Kent. An affable character, this player from New Jersey topped a field of 7,221 on his way to the title and $8.15 million.
At the final table, Blumstein turned into the Hulk – running over players and seemingly rarely making a mistake. His "aw, shucks" humility after his victory offers some insight into his personality.
"I don't have an ego in this game," he said in his post-win news conference. "I know where I stand. I know two weeks ago I was just a New Jersey online grinder and nothing's really changed.
"This is just one poker tournament. It takes variance and luck and playing your best. And all those things came together."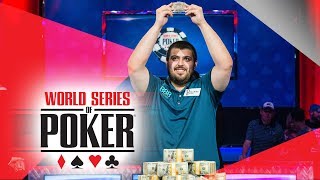 Claim Your $10 For Joining WSOP NV Now
1
$50 Free On Deposit
100% up to $1,000 On Deposit

Use Our Code: GET10
Loni Harwood
This Florida-based poker pro has received plenty of love when it comes to WSOP broadcasts. This poker-playing Sarah Conner brings plenty of terminating skills to the tables. Poker is even in the genes for Harwood, her father was also a poker pro.
By 2013, Harwood already had some major scores under her belt. That included two WSOP Circuit rings. But that summer at the Rio would prove an even bigger year.
Harwood took down her first bracelet in a $1,500 No Limit Hold'em event for $609,017 and scored two more final table appearances.
When it comes to the winner's circle, she'll be back. But her first time being filmed for television was a completely new experience. That ended in a truly memorable note for Harwood.
"It felt both stressful and exciting being on camera for ESPN," she tells USPoker. "I had lost my mom a year before so I was so focused on winning for her and that win meant a lot to me."
Allen Cunningham
This five-time bracelet winner has an analytical poker mind and was the 2005 WSOP Player of the Year. Another highlight was winning a bracelet in three consecutive years – from 2005 to 2007.
Many ESPN poker fans may also remember some big Main Event performances. Cunningham's first cash in the event came in 2001, 27th for $39,960.
Since that time, this Las Vegas-based player put together a total of 10 Main Event cashes. The best came in 2006 when he finished fourth for $3.6 million.
Cunningham notched another fairly deep run in 2011, 69th for $108,412. If Cunningham was Superman at the 2006 final table, Jamie Gold proved to be Lex Luther.
Mark Newhouse
This poker pro from North Carolina may be a modern-day card-playing Rambo. After mowing down opponents in 2013, Newhouse finished ninth in the Main Event for $733,244.
A year later, he did it again – making the final table for ninth again for another $730,725. For two straight years he went through players like Rambo taking out bad guys.
It was a remarkable accomplishment and Newhouse now has $3.5 million in live tournament winnings. Beyond the WSOP, Newhouse also has a WPT title – winning the WPT Borgata Poker Open in 2006 for $1.5 million.
Since his WSOP finishes, he's taken a bit of a low profile from tournament poker. Newhouse certainly put the "nine" in November Nine two straight years. That's a massive accomplishment.
THE BEST SOCIAL POKER ROOM IN AMERICA
1
Free $20 Gold Coin Offer
With a Verified Account, PLUS
get as $40 Gold Coin Offer for $20
US Players Accepted
Daily FREE Sweeps Coins Just For Logging In
Texas Hold'em Ring Games, Tourneys, and SNGs
Chance to Win Cash Prizes
Phil Ivey
Okay, so some recent events may not have him fully on the hero side. Yet Ivey remains that man of mystery that viewers can't stop watching.
Always bringing big powers to the table, Ivey seems to have magic powers at the table. Or even more fitting, Ivey might be that cool vigilante who's not afraid to break a few rules. Maybe he's a poker-playing Boba Fett, Batman, and Punisher all rolled into one.
From 2002 to 2009, Ivey battled his way to four top 25 finishes in the Main Event. That included a 10th-place finish in 2003 and seventh in 2009.
Ivey has scored 10 WSOP bracelets but also apparently has some skills at other games like Baccarat. When it comes to the WSOP, if Ivey's in the field – the ESPN cameras will follow.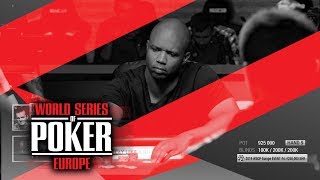 For a complete look at the WSOP Online including schedules, information, and Twitch streams, click here.